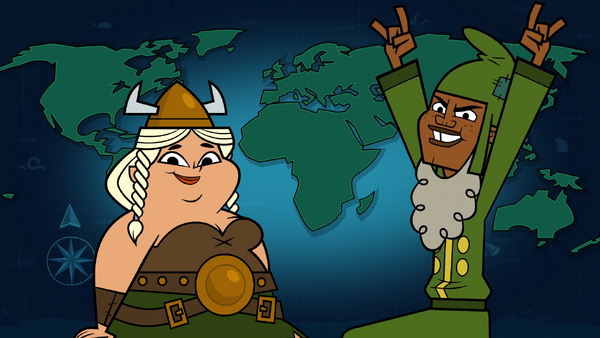 Hey Fresh Fans! It's the last reveal!!!
Meet the Larpers; Tammy and Leonard
Pahkitew Island's wizard Leonard is back! He brings his wacky, fantasy-laden brain and "live-action role playing" reality to The Ridonculous Race but this time around, he has an equally imaginative friend: Tammy!
Both love to turn every day moments into scenes from their own made-up world… so imagine what the adventure of a race around the world will bring to the party! Huzzah!
Tammy is voiced by Nicki Burke, who also plays Stephanie in the Ridonculous Race. Leonard is voiced by Cle Bennett, who also plays Lorenzo in the Ridonculous Race. You can find Nicki and Cle on Twitter@BurkeNicki and @CleBennett.
Click here to download the image.
Stay tuned to re:Fresh for more info on the Ridonculous Race as we get closer to the premiere!
Stay Fresh,
Christine
Source: http://www.freshtvinc.com/blog/meet-tammy-and-leonard-from-the-ridonculous-race/
Ad blocker interference detected!
Wikia is a free-to-use site that makes money from advertising. We have a modified experience for viewers using ad blockers

Wikia is not accessible if you've made further modifications. Remove the custom ad blocker rule(s) and the page will load as expected.