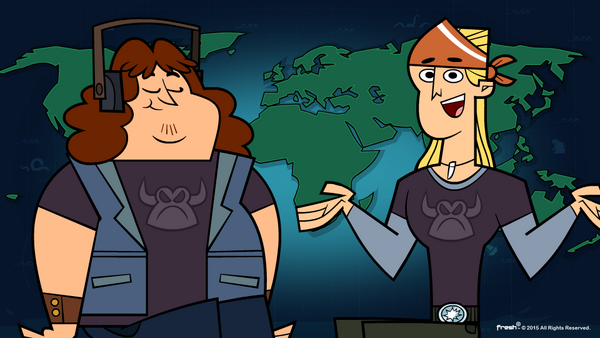 Hey Fresh Fans! Time to ROCK OUT!!!!!
Meet the Rockers; Spud and Rock
The Race is one big party for Spud and Rock, two loveable, best friends who still haven't moved out of their parents' basement apartments (they're just biding their time until their garage band, "Devil Frog" catapults them into super-stardom).
Rock is smarter and the obvious leader of the two while Spud has all the brain power and drive of a very dull sloth; without Rock, he'd be totally lost.
Despite their party-hardy attitudes, Rock is really trying to win the Race so he can use the money to move out into his own apartment. Spud is just trying to remember that he's on a television competition.
Spud is voiced by Carter Hayden, who also plays Ennui and Noah in the Ridonculous Race. Rock is voiced by Carlos Diaz, who also plays Lorenzo in the Ridonculous Race. You can find Carter and Carlos on Twitter @ImCarterHayden and @carlospdiaz.
Click here to download the image.
Stay tuned to re:Fresh for more info on the Ridonculous Race as we get closer to the premiere!
Stay Fresh,
Christine
Source: http://www.freshtvinc.com/blog/meet-spud-and-rock-from-the-ridonculous-race/
Ad blocker interference detected!
Wikia is a free-to-use site that makes money from advertising. We have a modified experience for viewers using ad blockers

Wikia is not accessible if you've made further modifications. Remove the custom ad blocker rule(s) and the page will load as expected.