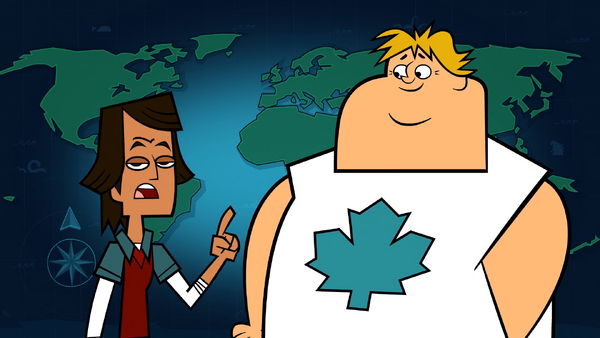 Hey Fresh Fans! It's reveal time again!
Meet the Reality TV Pros; Owen and Noah
Classic competitors Noah and Owen are back for another chance at the million dollar prize.
Since their Total Drama days, Owen and Noah have been keeping busy appearing on various reality shows like Meltdown Kitchen and Scare Tractor.
Noah believes that they have no chance of actually winning the Race, but would never turn down a chance to travel around the world on someone else's dime. Owen is just psyched to be back on TV with his little buddy. He may be a lot of things (big, loveably dumb, flatulent…) but Owen's always had heart and tries his best.
Owen is voiced by Scott McCord, who also plays Brody and Jacques in The Ridonculous Race. Noah is voiced by Carter Hayden, who also plays Ennui and Spud! You can find Scott on Twitter@ScottyMcCord and Carter @ImCarterHayden.
Click here to download the image.
Stay tuned to re:Fresh for more info on Ridonculous Race as we get closer to the premiere!
Stay Fresh,
Christine
Source: http://www.freshtvinc.com/blog/meet-owen-and-noah-from-the-ridonculous-race/
Ad blocker interference detected!
Wikia is a free-to-use site that makes money from advertising. We have a modified experience for viewers using ad blockers

Wikia is not accessible if you've made further modifications. Remove the custom ad blocker rule(s) and the page will load as expected.