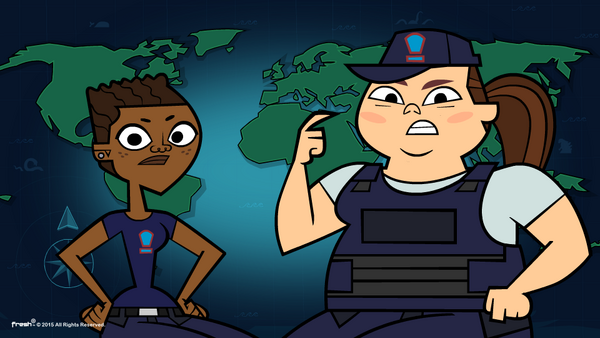 Hey Fresh Fans! Put your hands up, drop the mouse, drop it!
Meet the Police Cadets; Sanders and MacArthur
These two Police Cadet trainees are willing do whatever it takes to win The Ridonculous Race. MacArthur is an impulsive, tough as nails cadet who knows no fear. She isn't afraid to break a few laws or mess with other teams to get ahead. Conversely, Sanders is all about doing things by the book. Despite her conservative and logical nature, she often finds herself unwittingly dragged into MacArthur's crazy schemes.
These girls are a real threat – they're super ambitious and know how to work as a team.
MacArthur is voiced by Evany Rosen, who is also a stand up comedian that you might recognize from Picnicface and Space Janitors. Sanders is voiced by Nicole Stamp, who has hosted several TV programs and is a critically-acclaimed playwright. You can find Evany on Twitter @evanyrosen and Nicole @nicolestamp.
Click here to download the image.
Stay tuned to re:Fresh for more info on the Ridonculous Race as we get closer to the premiere!
Freshly yours,
Christine
Source: http://www.freshtvinc.com/blog/meet-macarthur-and-sanders-from-the-ridonculous-race/
Ad blocker interference detected!
Wikia is a free-to-use site that makes money from advertising. We have a modified experience for viewers using ad blockers

Wikia is not accessible if you've made further modifications. Remove the custom ad blocker rule(s) and the page will load as expected.