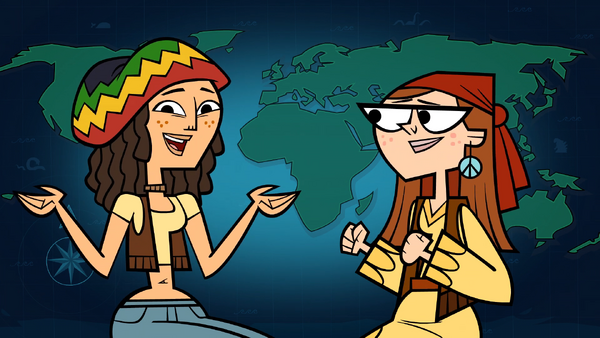 Hey Fresh Fans! Time to send your good vibes to Mother Earth!
Meet the Vegans; Laurie and Miles
Laurie and Miles are earth-loving vegan do-gooders with an "Earth first" attitude. Having travelled extensively, they've learned a deep respect for different cultures as well as their local flora and fauna. The Vegans can both be somewhat aloof and pretentious at times but their tree-hugging hearts are in the right place.
While they tend to carry themselves with a zen-like calm, any perceived injustice against nature will send the pair into an emotional tizzy. They are in the Race because they hope to win money for their favourite charities and dedicate their victory to Mother Earth.
Laurie is voiced by Emilie-Claire Barlow, our beloved Courtney and Ellody from The Ridonculous Race. Miles is voiced by Katie Griffin, who plays Mary in The Ridonculous Race and Gwen, the Khaki girl in 6teen. You can find Emilie-Claire on Twitter @ecbarlow and Katie @kissmechaos.
Click here to download the image.
Stay tuned to re:Fresh for more info on the Ridonculous Race as we get closer to the premiere!
MMM granola, Christine
Source: http://www.freshtvinc.com/blog/meet-laurie-and-miles-from-the-ridonculous-race/
Ad blocker interference detected!
Wikia is a free-to-use site that makes money from advertising. We have a modified experience for viewers using ad blockers

Wikia is not accessible if you've made further modifications. Remove the custom ad blocker rule(s) and the page will load as expected.