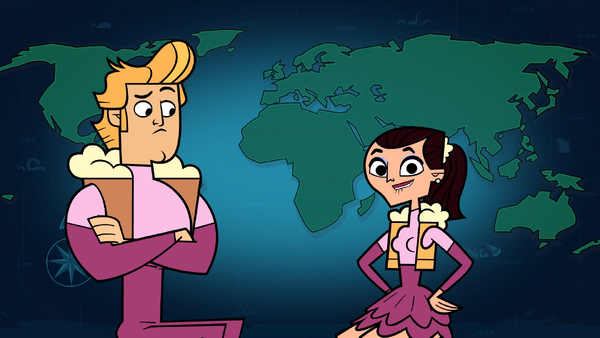 Hey Fresh Fans! Get your skates ready…. Meet the Ice Dancers; Jacques and Josee 
Canadian figure skating dynamos Jacques and Josee's dream was to win gold at the Olympics. When they finally got their chance, Jacques dropped Josee on the ice! Goodbye gold, hello national embarrassment. They're using the Race to prove that they are still winners.
Jacques and Josee used to being in the limelight and LOVE "performing" their challenges with extra grace and artistry. But while they may be Canada's smiling sweethearts on the outside, their true nature is much more conniving. They'll do whatever it takes to guarantee a victory… all while flashing a show-ready smile to camera, of course!
Jacques is voiced by Scott McCord, who we all know and love as Owen and Brody. Josee is voiced by Julie Lemieux, who also plays Kelly. You can find Scott on Twitter @ScottyMcCord.
Click here to download the image.
Stay tuned to re:Fresh for more info on the Ridonculous Race as we get closer to the premiere!
Freshly yours, Christine 
Source: http://www.freshtvinc.com/blog/meet-jacques-and-josee-from-the-ridonculous-race/
Forget about my comment on the Tom and Jen blog. You can comment whatever you want
Ad blocker interference detected!
Wikia is a free-to-use site that makes money from advertising. We have a modified experience for viewers using ad blockers

Wikia is not accessible if you've made further modifications. Remove the custom ad blocker rule(s) and the page will load as expected.