http://totaldrama.wikia.com/wiki/User_blog:LandryC/Top_20_Best_Total_Drama_Contestants_Ever!_(in_my_opinion)_(numbers_20-11) <-----Click here to see if your favorite made the list already.
Now numbers 10-1:
10. Dakota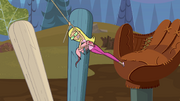 It seems that everyone likes this rich girl and for good reason, Chris treated her like crap. While everyone felt her return, as a contestant, to TDRI was kind of rushed. I think she still has room to grow, provided her mutation wears off and she reverts back to her normal appearence. The reason I like her is because she got over her shallowness and gave Sam a chance.
9. Max
File:Max one true evil.png
He's evil, like a Pixar villain....on a sugar high and he's funny like Plankton. He's Max and he wants you to know how evil he is, even though Scarlett proves to be the better candidate. His attempts to take over are hilarious to watch as he fails. He's also a really interesting character, he plays the stern yet laughably evil guy so well. It seems like you kinda wanted him to win Pahkitew Island, if you know he kept his mouth shut.
8. Samey
File:Samey is EVIL.png
She's the Samey as Amy but better since she got her revenge on her mean and annoying sister. The reason why I like her over Amy is because she was useful to her team, even though Amy said she's not. Her friendship with Jasmine made me remember what it's like in high school and trying to fit in. I bet she's only on the cheerleading squad because of Amy.
7. Tyler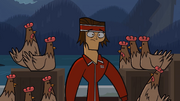 Yeah, don't get me wrong here the only reason I like Tyler is because of the fact that he sucks at sports. I also liked his relationship with Lindsay, I still don't know why it's still a relationship. He's funny and relatable in the context that, like me, you tried and failed a sport or two in your life.
6. Heather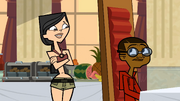 Okay before any of you say anything, she was the original villain of Total Drama. Her sneaky and underhanded ways made her unique, she also got her strategy by watching other reality shows. You can't say she didn't do her research because she did okay. She may be a mean, manipulative and heartless person with no reguard for anyone but herself. But her consistent character throughout the seasons is why most people like her. She never strayed from her character and without her Total Drama would be a snore fest.
5. Dawn
You all know she would be on this list sooner or later but you know I never fully understood her as a character before. She disappears, she reappears, she floats, she can probably levitate. She's as close to magic as this show allows, and that's a stretch considering we saw aliens on the show before. A lot of people like Dawn but what do you guys think? Do you like Dawn yes? Or no?
4. Noah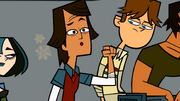 This small piece of sarcasm is Noah and, honestly, that's why I like him. I like his sarcastic remarks and his unwillingness to try at challenges. He's probably close to how I was in high school, minus the genius IQ or course. I would write more but any Noah fanboy or fangirl can give a better explanation about how awesome Noah is than I can.
3. Gwen
Not sure if she was on my least favorite list or not but here she is. Love her or hate her Gwen probably wouldn't care. She didn't give a crap about appearing on Total Drama Island but got over it as the show went on. While her villain status, or lack of villain status, made me root for her even more. She raced her way back to the final four in All Stars but Chris's vanity ruined it for her. She may have fallen into Bad Writing Valley but she slowly returned to her TDI self just in time for her elimination.
For the last two: WARNING BIASED OPINION DETECTED! (you have been warned. :P)
2. Scott
Say what you will but my opinion on Scott will never change, I love all the things people hate about him. I love how he caused all of his teammates elimination and his attempt to destroy his team from the inside. I turn away from people who bash on him because that's their deal. I loved Scott even more in All Stars because I felt that he changed for the better.
1. Duncan
Just like with Scott, I love everything about Duncan people hate the most. I love how he acts like a tough guy because he is one. I love how his character was handled throughout the seasons, while I hated his treatment in All Stars. I also love his warm sensitive heart he tries to keep hidden. It shows that not all tough juvie bullies are all tough juvie bullies. He gets more character as the show progresses and I'm all for it.
Official Closing Thoughts
Did your favorite make the cut? Any honorable mentions you want me to add? (provided I like that contestant of course.) So yeah love these 10? Yes? No? Let me know in the comment section below. Also: http://totaldrama.wikia.com/wiki/User_blog:LandryC/Top_20_Best_Total_Drama_Contestants_Ever!_(in_my_opinion)_(numbers_20-11) just in case you think I missed one of your favorites.
Ad blocker interference detected!
Wikia is a free-to-use site that makes money from advertising. We have a modified experience for viewers using ad blockers

Wikia is not accessible if you've made further modifications. Remove the custom ad blocker rule(s) and the page will load as expected.