The final of the three teams in TDU, the Screaming Raptors! I'm still waiting for TDWT to get more along before I begin writing, and although I'm disappointed I'm not generating a lot of beforehand interest, I'll keep revealing stuff and see how things go. I'm going to re-iterate my previous statements the roster is subject to change, and chances are I'll end up adding two more contestants to fill out the roster, probably a returnee and another original character, both male to even it out. I'm also considering dumping the original characters, among other options, since having twenty-two total characters makes me feel a bit cruel to be excluding some of the originals XD
The Screaming Raptors are Ezekiel, Noah, Katie, Sadie, Sierra, DJ and the only original character at the moment, Alan.
Suggestions are as always, welcome.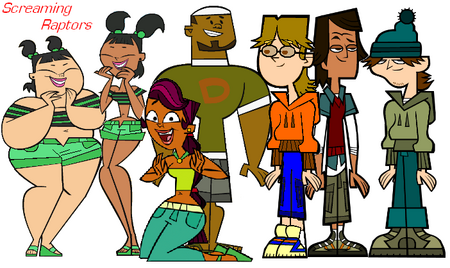 Ad blocker interference detected!
Wikia is a free-to-use site that makes money from advertising. We have a modified experience for viewers using ad blockers

Wikia is not accessible if you've made further modifications. Remove the custom ad blocker rule(s) and the page will load as expected.