Hi everyone its me IZZYNOAH12 and im making a blog about you guessed it The TDPI Wannabe Contestants! So first up Leonard:
Yes, first up is Leonard THE LARPER. He is a wannabe contestant I mean seriously a wizard. Total Drama made pretty obvious that he was going to a early out because of the whole design and the magic spells.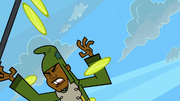 Next up Ella: Now its time to talk about Fairytale Princess Ella. We all knew she was going to be a wannabe after seeing her first design and I really liked how Sugar created a hatred towards her because I would have too I mean her singing was sweet but super annoying and she was just sooo happy most of the time and I hated it.
Ad blocker interference detected!
Wikia is a free-to-use site that makes money from advertising. We have a modified experience for viewers using ad blockers

Wikia is not accessible if you've made further modifications. Remove the custom ad blocker rule(s) and the page will load as expected.