What are the chances that I messed up the title's spelling again...
Hi guys, River back for the final time until Pahkitew with my review for *drum roll* The. Very. Last. Episode. Of. Season. Five!!!! I'm gonna miss you guys...
Over the weekend, I was REALLY bored, so I decided to answer a question that's been sitting in the back of my head: Is Mal's emo flip thing longer than Mike's mullet? In the scenes where Mike's hair flips down, it actually looks like it's GROWING a little bit. Half an hour of work (and three edits) later, I came up with this: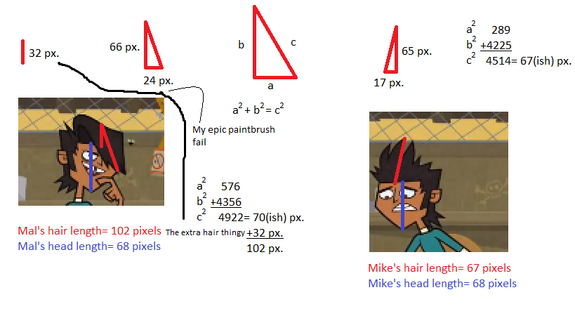 Note: 576+ 4356 is really 4932. It still squares to about 70, so it's not that big a deal.
Also, I put the Bros' heads at the same length to make it easier.
In conclusion, Mal's hair can not only flip over his face on its own, but it also becomes LONGER when it does so. Mind. Blown.
On to the actual review:
We open on Zoey continuously watching reruns of Mal. Watching it fifteen times won't make it seem any different, Zoey. And Mal knows that Zoey knows that Mike's gone. In his brain, the Bros come across a door with the Mal, Inc. logo and five stick figures. Maybe five people at a time can use the restroom in there? So they break down the door, and it falls on them. Door/Mal United 1, the Bros (minus Mal) 0.
YAY ZOEY YOU FINALLY APPREHENDED MAL FOR WHO HE IS!!! Then immediately goes into doubt again as Mal messes with her psychologically. And now we get to see MAL compete, instead of Mal pretending to be Mike.
At the finale set thing, Zal gets to pick a weapon. Not sure why, just pick one. But make sure it's not the oven mitt which probably contains a nuclear bomb in it, based on Chris. And an Owen cameo! Nice.
Zoey shoots out Cameron's bubble, which contains a bubble, which Cameron is inside of. She also gets Gwen, and Mal gives her a meatball to the face. Does that mean she has to work with him? That'd be AWESOME!!!! But then Mal shoots out Aleheather, who is really in LOOOOVE!!!! Such a beautiful thing. And everyone else floats away into is probably Greenland.
So, I had an idea the BEST (or second or third best) finale, referencing ALL the past finales. You have to wear an animal hat (TDI), and have a vote of the finalists, so one gets a head start or something (TDA). You run to the base of the Diving Cliff and make a wood/pineapple statue of your opponent with your helpers' help. You then take it ti the top of the cliff and throw it off (TDWT). After a race of some distance (minor TDI), you enter an arena, where you have five minutes to build a battle-armor-weapon-thing after the second person comes in. There is a fight to the unconscious, and the last person to stay standing wins (TDROTI). I know, brilliant, right?
But no, we have a WEDDING CAKE. Celebrating Aleheather, Tyler x Lindsay (can't think of a good ship name) ,or Zoke's WAAAY too early marriage. What is this a reference to, exactly?!?!? At the top is King Chef, who is defending the SWORD... IN THE ROCK. Still dunno what this is referencing.
OMG Zoey has the SADDEST puppy dog eyes EVER when she hears that Mal's in charge FOR EVA!!!! Stop being depressed, Zoey. You can always date Duncan.
We go to a commercial... that seemed so short. After it, Zoey buried the bracelet Mal gave her. I don't know how it's perfectly flawless after being broken in half, but whatever. At the first tier of the wedding cake, Mal is willing to DROP HEATHER IN ACID FOR THE MILLION. You only have two disposable people. Conserve them. Al shows up in time to save Heather by suggesting that Mal pole vaults across the pit.
Zoey and Gwen, however, are just as kind as Mal when they ride CAMERON across the ACID THAT WOULD PROBABLY KILL HIM BEFORE YOU MADE IT ACROSS. But, he lives, but his bubble's gone. Mal epically pole vaults over the acid, and doesn't die either.
Al calls Mal little... Dude? He's like four inches taller than you, and the Bros reach a button. Of Resetting Proportions. Technically speaking, if Mike reset his brain, wouldn't he basically like... forget EVERYTHING?! Like, Zoey, and Cameron, and Zoey, and... um... Zoey... And NO MIKE. DO NOT GET RID OF MANITOBA. WHATEVER YOU DO. GET RID OF YOURSELF, EVEN. JUST DO NOT GET RID OF MANITOBA.
On level Lava, Zoey tries to cross the WOODEN BRIDGE over FIERY LAVA. The only move I've seen that was stupider than that was when Mal stuck all Mike's personalities in a ROW towards the tower. As a kindergartener could guess, the ladder-bridge caught fire, but Zoey made it across.
Aleheather crosses the acid on a logdola (log-gondola).
Mal is resorted to a happy pink pogo stick of rainbows and unicorns to cross. In a kamikaze attack, he crosses the lava and gives Zoey a concussion. But Mal, as he's sinking underwater, goes back to the subconscious and finds his tower destroyed.
Mike is there, and as Mal goes to attack him, demonstrates his epic Force-force field skills and deflects him. He says, with a dream cloud to narrate, that he PRESSED THE BUTTON. AND GOT RID OF MANITOBA. I HATE YOU, MIKE. WITHOUT MANITOBA, YOU'RE BLANDER THAN STALE BREAD. YOU ARE BLANDER THAN ZOEY AND CAMERON'S WORST TRAITS COMBINED.
RIP MANITOBA
2012-2013
You will SERIOUSLY BE MISSED.
Mal is banished forever, and Mike is now stuck in his subconscious forever since the tower is destroyed, and... oh no. He got out.
RIP MAL
2012(technically)-2013
You will be missed
QUICK AWARD BREAK: First ACTUAL Zoke kiss.
Aleheather is gone with the announcement that ANYONE can win the million. I'm surprised Chef didn't just climb down and grab it. And Mike apparantly gained his personalities' powers when they left. He should have gotten the dark eye circle things as Mal's last impression. That would have been AWESOME.
During the commercial, I root for Mr; Coconut to somehow win. Or Leshawna Jr. In an not-so-epic Mike vs. Chef vs. Zoey, there is the LAMEST. ALTERNATE ENDING SWITCH THING. EVER. But hey, Manito- er, Mike won. Yay.
We get the CLOSEST THING to an ACTUAL SWEAR WORD, we didn't even have CRAP, I don't think, with "fracking". This, in turn, causes the island to spontaneously sink as the dramatic music from Regular Show's Best Sandwich Ever hologram-come-to-life-taste-the-Himalayas episode plays. I love that episode. Seriously, it's in my top 5.
And Mike MAY just be in Season 7, with Gwen! I ship them, even though it will NEVER happen. Gwike.
With another Owen cameo. The end.
GOOD POINTS:
- Aleheather
- ... Um..... er.... nice background?
BAD POINTS:
- LAMEST MAL DEFEAT POSSIBLE.
- MANITOBA IS ''GONE!!!!''
- No peanut gallery. Really?
BEST CHARACTER: ... I legitamately don't know. How about... Mr Coconut? No, wait... Owen. He at least got SOME comedy.
WORST CHARACTER: As much as I hate to be saying this... Mal. His defeat SUCKED, he didn't even TRY to psychologically mess with Zoey, and has the WORST tower security EVER. Seriously. Dude. Get, I dunno, a motion-sensor-activated laser cannon or something.
FINAL SCORE: 7.8
OVERALL SEASON GOOD POINTS:
- Gwentney
- Malejandro
OVERALL SEASON BAD POINTS:
- Continuity
- Mal
- Zoey
OVERALL BEST CHARACTER: Lindsay. She was spared from this travesty of a season.
OVERALL WORST CHARACTER: Courtney. MAKE UP YOUR FRACKING MIND ABOUT WHO YOU LIKE, AND DON'T LIKE, AND ARE YOU A C.I.T. OR NOT!!!!!!!!!!!
SEASON FINAL SCORE: 8.2
See you next time on.... TOTAL. DRAMA. PAHKITEW. ISLAND!!!!!! YAAY!!!! Maybe I'll get my sanity back.
Ad blocker interference detected!
Wikia is a free-to-use site that makes money from advertising. We have a modified experience for viewers using ad blockers

Wikia is not accessible if you've made further modifications. Remove the custom ad blocker rule(s) and the page will load as expected.