Have you ever wondered what might happen if zombie fighter Shawn met the "zombified" contestant Ezekiel?
How do you think Shawn and Zeke would react to each other?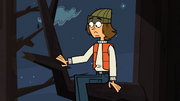 Fresh TV's Tumblr post about this
SwitchBoardNetwork's video with this topic
Ad blocker interference detected!
Wikia is a free-to-use site that makes money from advertising. We have a modified experience for viewers using ad blockers

Wikia is not accessible if you've made further modifications. Remove the custom ad blocker rule(s) and the page will load as expected.