This is the Gemmie Awards!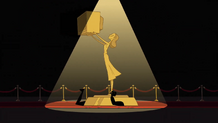 In honour of Academy Award and Leonardo DiCaprio (finally!), we recognise the hard work from everyone in Total Drama in the Gemmie Awards.
Here's the list:
Best Episode
Best Male Character
Best Female Character
Best Couple
Best Supporting Character
Best Character Design
Best Original Song
Best Writing (Base on season)
Best Challenge
Best Moment
This is my list:
Best Episode - A Million Ways to lose a Million dollars in Ridonculous Race
Best Male Character - Owen in TDI
Best Female Character - Carrie in Ridonculous Race
Best Couple - Trent & Gwen in TDI
Best Supporting Character - Mr Coconut in TDI
Best Character Design - Carrie in Ridonculous Race
Best Original Song - 'I wanna be famous' in TDI
Best Writing - Ridonculous Race
Best Challenge - Dodgeball Challenge in TDI
Best Moment - Lindsay's swear at Heather in TDI

What's your winner in each category? Comment Below!
P.S. Coming up next - Razzie Awards!
P.S.S GO MAD MAX!
Ad blocker interference detected!
Wikia is a free-to-use site that makes money from advertising. We have a modified experience for viewers using ad blockers

Wikia is not accessible if you've made further modifications. Remove the custom ad blocker rule(s) and the page will load as expected.