While you may have heard of me making a TD platform game, I just have a new idea for game. This is based on FUT draft (From FIFA 16)  The main concept is:
The main aim - make the best team ever
you are shown 5 random contestants
U select one of them. 
Repeat that to make a team
Main component: individual rating and teamwork
Individual rating will be based on how good they are
Teamwork based on their past friendship and parties
At the end, combine teamwork and average individual rating to get your final score.
Well, here is the main concept. What do you think? Comment Below!
UPDATE: I have 6 qualities so far:
Intelligence
Athletic Ability
Determination
Teamwork/Loyalty
Charisma/Popularity
Strength
Game Link Concept Card: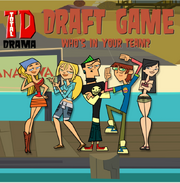 Special Abilties:
THIS IS ONLY A CONCEPT AND THOSE STAT WILL BE CHANGED!!!
Ad blocker interference detected!
Wikia is a free-to-use site that makes money from advertising. We have a modified experience for viewers using ad blockers

Wikia is not accessible if you've made further modifications. Remove the custom ad blocker rule(s) and the page will load as expected.