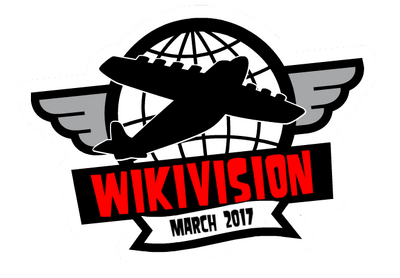 Welcome back to Wikivision. If you're new to Wikivision, welcome! Don't forget to read the rules.
How To Play
To sign up, you just have to comment on this blog and say you want to compete. Do NOT say what song you are submitting in the comments.
When you've done that, you'll need to find me in the Chat and PM me your song. You must not tell anyone else what your song is. When everyone has submitted a song, I will post a list of all the songs on this blog, as well as a link to the Google Forms page where you can vote.
Once all the votes are collected, I will add up the points and then post the results, with the amount of points each song got and who submitted it
Rules
Do not, under any circumstances, reveal to anyone besides me which song is yours. This is done in order to keep things fair and prevent biased votes.
Do not reveal your votes to anyone other than myself either, for the same reasons.
The contest will begin once everyone has submitted their songs, but if you still have not submitted a song 1 week after signing up, you will be disqualified and the game will begin without you.
Songs from previous rounds of Wikivision may not be submitted. This is in order to keep the game fair and to keep the game fresh. Artists may be entered again as long as they have not reached the Top 3 before.
if you do not vote in 3 different rounds of Wikivision despite signing up, you will not be allowed to take part in the next two rounds, and if it happens again, you will not be allowed take part at all. This isn't a nice rule, and I wish I didn't have to make it a rule, but it's becoming way too big an issue now that people are not voting.
March 2017
This month, Wikivision is teaming up with Project 10 to bring you a special theme. You might have noticed that the Project 10 survey didn't include a vote on the 30 TDWT songs. That's because this round, everyone is going to submit their favorite song from TDWT and we'll find out which one is the most popular! Good luck everyone!
Participants
Songs

To vote, click the link above and follow the instructions given.
You cannot vote for your own song.
Please do not vote if you have not entered Wikivision. If your name is on the list above, you can vote.
Troll voting is honestly not funny, and just very annoying. Please do not do that.
Results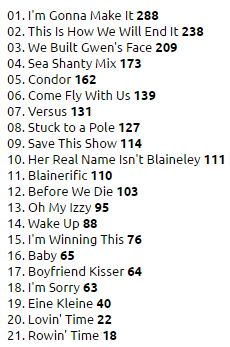 Participation
Ad blocker interference detected!
Wikia is a free-to-use site that makes money from advertising. We have a modified experience for viewers using ad blockers

Wikia is not accessible if you've made further modifications. Remove the custom ad blocker rule(s) and the page will load as expected.