I'm sorry Noah fans. Towards the end of this blog, it will get ugly. I suggest avoid reading the The Ridonculous Race section if you don't want your favorite character to be humiliated because I may or may not get harsh.
Hey guys, so this is my first character review on a Total Drama franchise character. No, I will not review everyone. I will only review the liked, hated, or controversial characters in the series. For now, I'd like to start this first review blog post about Noah and my analysis on him from TDI to RR. Although Noah was popular in Total Drama, his popularity was dragged down after the conclusion of the Ridonculous Race. Therefore, Noah falls into the Controversial category.
Total Drama Island
Believe it or not, I never had any positive thoughts on Noah despite his sarcastic, snarky attitude which most of us thought funny. I knew for sure Noah was going to leave early and it turned out I was right. However, I didn't have much against him either. The only negative thought on Noah was how he tried to skip out on the Dodgeball challenge which was something a "smart" person as he claims to be would never do. Noah lacks team-spirit and did pretty much nothing to contribute in any challenge besides the first two challenges in the second episode. Overall, I am moderate with this character.
Noah is ranked #17 on my Rankings for this season.
Total Drama World Tour
When Noah returned, I started warming up to his sarcatic jokes.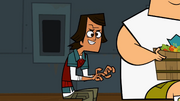 Additionally, I had a feeling that he was going to make it farther than he did in Total Drama Island. However, he's not that great as people say. Despite managing to stay longer than he did in the first season, he lacked a plot and was still nothing more than a minor character throughout this season. But that wasn't enough for me to say he was overall decent this season on the count of his comedic values.
Noah is ranked #4 on my Rankings for this season.
Total Drama Presents: The Ridonculous Race
In this season, Noah underwent some changes. For instance, he now has a plot but that only started on the seventh episode of this season. Though this does not mean he changed for the worst. He no longer has his sarcastic edge which was very disappointing. In addition, he has little to no personality either. ARE YOU KIDDING ME?! WHY?! And that's not the worst of it. His "plot" was mainly just staring at Emma, suddenly falling in love with her after she had finished her gymnastics challenge. SERIOUSLY?! Sure, it was confirmed that he had a crush on her BEFORE that but I'm only taking what is seen on-screen. And that's not it even half of it. After Emma says that she and Noah won't be together, he falls into a catatonic, depressed state and did absolutely nothing in the next episode. Oh no... Nonononononono! NO! HOW PATHETIC!!
Seriously, did Fresh TV just turn Noah into Dave? Because it sure feels like it. Especially the Nemma ship being somewhat parallel to Skave. What Fresh TV turned Noah into was disgustingly horrible and for sure, Noah has overall been ruined as a character and it pains me to say that Noah is the worst character of RR. 
Noah is ranked #36 on my Rankings individually and #16 as a team for the Ridonculous Race.
Conclusion
From what we've seen so far, Noah WAS decent in Total Drama but is terrible in the Ridonculous Race. Should we consider him as a great character now? I'm fearing that when he returns to Total Drama, the writers will ruin him even further as they did to great characters like Gwen, Duncan, Trent, Geoff(though his character was mended in the Ridonculous Race) and even Mike. I believe Noah was already ruined enough.
TL;DR
Noah is decent in Total Drama Island and Total Drama World Tour but isn't in the Ridonculous Race and I don't want him to return in Total Drama.
Ad blocker interference detected!
Wikia is a free-to-use site that makes money from advertising. We have a modified experience for viewers using ad blockers

Wikia is not accessible if you've made further modifications. Remove the custom ad blocker rule(s) and the page will load as expected.