The Total Drama Aftermaths that were only in Action and World Tour that basically said Geoff and Bridgette will get voted off early. I have mixed opinions about the aftermaths because some made  Geoff Chris Mclean surfer edition. They were also filler episodes in a way.  Some aftermaths were boring and some were entertaining. The aftermath that got blaineley on Total Drama by accident was the best one. So do you think the Total Drama aftermaths should return or just remain apart of TDA and TDWT?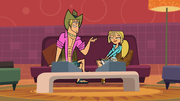 Ad blocker interference detected!
Wikia is a free-to-use site that makes money from advertising. We have a modified experience for viewers using ad blockers

Wikia is not accessible if you've made further modifications. Remove the custom ad blocker rule(s) and the page will load as expected.