Ok, there is a BIG possibility that producers make a season 5, so I was thinking, what will happen whit the love rectangle?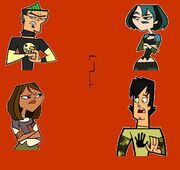 I think there are two possibilities:
1.Duncan and Gwen remain together.

In the first one, Trent and Courtney could get together or they could date someone else. (Or just remain single witch I doubt)
2.Courtney and Duncan get back together, and Gwen most likely gets back whit Trent.
Gwen could also start to date Cody, however, due to Sierra's attraction to him, I doubt so.
I want your opinion, which option would you like better? I wrote down the pros of each option.

Option #1:
Duncan and Gwen seem to really like each other.
They have a big pilot and story supporting Gwuncan.
Gwuncan relationship could be improved in season 5.
Courtney deserves something better than a jerk that cheats on her.
Trent deserves someone who really likes him and accepts him.
If the triangle thing was over, producers could give the underdogs more screen-time
(You can possibly think in others)
Option #2
At TDI Duncey and Gwent were really supported by fans.
Gwen deserves something better than a jerk who decided to cheat instead of breaking up first.
Courtney seems to love Duncan.
Trent seems to have matured, and I doubt he'll act as crazy as he did in TDA.
(You can think in others)

I'll choose option 1, not only because I'm a Gwuncan supporter, also because I think that after TREE seasons of a sub-plot, TREE seasons of stealing camera from characters like Noah, Cody, Ezekiel, Tyler, Eva, and others; if producers decided returning things back as they were at TDI, it will be just unfair and a waste of time (waste of almost four seasons actually) in my opinion.
Ad blocker interference detected!
Wikia is a free-to-use site that makes money from advertising. We have a modified experience for viewers using ad blockers

Wikia is not accessible if you've made further modifications. Remove the custom ad blocker rule(s) and the page will load as expected.