I've been doing artwork requests and all, but not I've decided to give you people some HQ images from TDWT. Just request a scene from TDWT on this blog or on my talk page and I'll give you one. With no logo. Please note that it won't be perfect!
MUST READ: From now on, all images you request will be reuploaded on the same picture. So please go to the same file to see the new HQ image.
NOTE: Requests will no longer be taken, I will instead repost HQ images of episode in order. Please bare with me.
And from now on, please put the images you request in a thumbnail or a link to it's photo details. It makes it easier for me.
Example: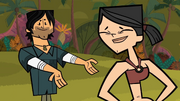 P.S. Please don't complain that the images are smaller.
Ad blocker interference detected!
Wikia is a free-to-use site that makes money from advertising. We have a modified experience for viewers using ad blockers

Wikia is not accessible if you've made further modifications. Remove the custom ad blocker rule(s) and the page will load as expected.