Some of you guys may have seen the artwork on my page of my "fictional" experience in Total Drama. Since I've learned some new tricks in all, I've decided to start taking requests! If you want a picture of your character on Total Drama, then tell me on my talk page!
Note: Since school has started in all, I might not be able to get to your request right away.
Here are some examples of my work.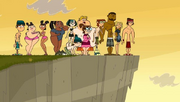 For more examples, go here!
Ad blocker interference detected!
Wikia is a free-to-use site that makes money from advertising. We have a modified experience for viewers using ad blockers

Wikia is not accessible if you've made further modifications. Remove the custom ad blocker rule(s) and the page will load as expected.