MERRY CHRISTMAS!!! I hope everyone is having a good time with friends and family. I got permission from TDIFan13 and Bigez620 to showcase some of my art and some of my videos here.
On a side note, I may or may not upload more stuff later today or sometime this week.
Commission: Aleheather Christmas Kiss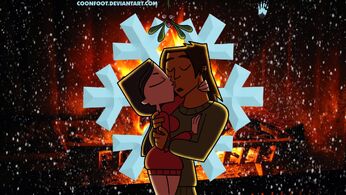 The first one is a Christmas present for TDIFan13 where it has his most favorite couple kissing under the mistletoe with a photograph of a fireplace and driven snow on it.
As you can see here, the Aleheather pic is done by Coonfoot on deviant art as a commission, who did a really great job on it. I asked him to make an transparent Aleheather pic while I put something in the background.
Even though Ryan is on vacation, I feel like posting here so it can be ready when he comes back.
Merry Christmas, TDIFan13! I hope you're enjoying
Jammy B-day Present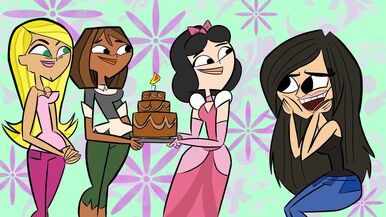 This next one is an birthday present for Jam7 back in July where it features her most favorite TD characters from generation 1-3 showing their gratitude to their 1# fan.
Just a heads up, I'm currently working on late Christmas art present for Jammy that features one of her favorite (fanon) couples. So keep on a look out for that ;).
MilaYin In Cat Dress (Bee & Puppycat)

The next one features of my friends, MilaYin's OC (in her new style) wearing the cat dress worn by Bee from the original pilot episode of Fredarator's internet cartoon series, Bee and Puppycat. I know Mila loves cats, so I figured she would look FABULOUS! And as you can probably see here, I made multiple drawings of her that is a loose reference to the pilot episode.
I also made a speed drawing video on them. Check it out!
Courtney Holiday Drawings

These next 2 are birthday and Christmas for my friend IronBloodAika on tumblr and deviant art. The first one (along with others) is his b-day present that feature his favorite 1st gen TD character Courtney dressed as the Human Cricket from the episode "Super Hero-ld". The other drawing has Courtney in a sexy Santa outfit, offering anyone to be under the mistletoe with her.
AND BEFORE ANYONE FREAK OUT OVER THIS, the intention of the second drawing is her offering to get a simple kiss on the pecker and NOTHING else. Don't get the wrong idea of this!
Christmas Surprise (TD Girls Edition)
This one is gift for grimphantom on deviant art. It features 4 out of 5 of his fav TD girls Gwen, Bridgette, Zoey and Courtney wearing sexy Santa suits, popping out of their Christmas boxes that matches the color schemes of each of their regular clothes and all of them reacting casually. Loosely speaking XD. Originally, I wanted to draw a Christmas tree in the background and positioning the characters differently, but I was busy with other things, so I went with something that is simple, cute, charming and sexy.

DISCLAIMER: The next few drawings in this blog is going to have a few anti-Sky fan art. If you're a die hard Sky fan, please do not get offended by them. I am only expressing my hatred towards this character thru the most comedic/ creative interpretation as possible.
Sky's Bees Beatdown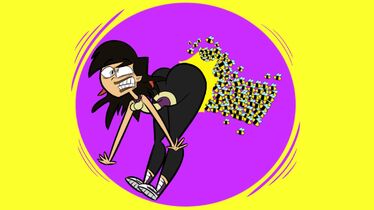 Another gift for grimphantom that features Sky (eww) getting what she rightfully deserves. In this one, she gets her ass kicked by a swarm of bees in the shape of a big boot. This is a loose reference from the episode "Twinning Isn't Everything", where her balloon got popped that had a swarm of bees inside of it. I though it was good idea for this type of drawing, seeing how GP likes cartoonish slapstick on women and liked to see Sky humiliated more lol. This was a challenge for me to do because I was really unsure if the pose even looks anatomically correct. Eventually, I settled with this one.
Speed Drawing Video:
Sky's So Untrue!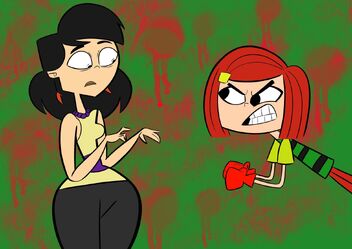 I don't think I have to explain what the pic is about or the process behind it. This literally speaks for itself XD.
Speed Drawing video:
http://codykins123.tumblr.com/post/105486436921/speed-drawing-of-this-art-piece
You're a Mean One, Sky.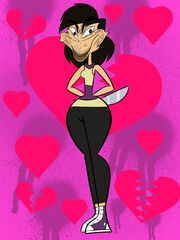 Sky doing the infamous Mr. Grinch grin, but making it a touch more creepy. Nuff' said. XD
Grojband Skateboard!


This is for my final exam at my 2-D design class, where we had to either make an original design or use an already existing product to create a design off of it.
I chose Grojband with Corey Riffin's signature skull on his hat with 2 hands doing the rock 'n' roll signal...thing :P.
Please let me know what you guys think of it in the comments below.
Videos Time!
Now here's a few remaining videos that I wanna show ya
Aleheather Related Videos
http://codykins123.tumblr.com/post/98265744506/ncs-reaction-to-aleheather
http://codykins123.tumblr.com/post/98176573046/my-view-on-aleheathers-love-confessing-oh-no
(WARNING: the video contains some cussing.)
Ad blocker interference detected!
Wikia is a free-to-use site that makes money from advertising. We have a modified experience for viewers using ad blockers

Wikia is not accessible if you've made further modifications. Remove the custom ad blocker rule(s) and the page will load as expected.