Total Drama Island (originally titled Camp TV) is the first season of Total Drama.
Overview
This season involves twenty-two sixteen-year-old contestants who signed up to be in a reality show on an island, known as "Total Drama Island." The teens all have different expectations for what camp is going to be like, with the underlying idea that it is going to be a luxurious get-away. According to Chris, to be on the show, one has to be sixteen years old and be either "kooky, obnoxious, stuck-up, dense, loud, annoying, filthy, or anywhere remotely in between." The twenty-two teens chosen are divided into two separate teams: the Screaming Gophers and the Killer Bass.
The two teams were given challenges every three days. The losing team would vote one of their members off, and the contestant that is voted off will have to walk the Dock of Shame and board the Boat of Losers, which will then take them away. At some point in the competition, the teams would dissolve. After the merge, the same elimination process would continue to happen, except then after every challenge only one to two people had invincibility and after every challenge the whole group had to vote somebody out instead of just one team. This process continued until only two contestants were left to compete in a final challenge where the last contestant standing won $100,000.
Episodes
There are twenty-six episodes, twenty-seven counting the exclusives, plus a special that led up to next season. TDI Rundown was a special recap episode aired only on Cartoon Network, and Total Drama Island Recap was a special recap episode aired only on Teletoon.
Cast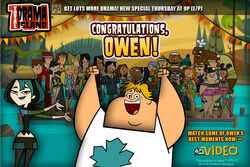 Twenty-two teenage contestants, plus the host, Chris, and co-host and cook, Chef Hatchet, respectively.
| Voice actor | Role | Episode count |
| --- | --- | --- |
| Scott McCord | Owen | 27/27 episodes |
| Megan Fahlenbock | Gwen | 27/27 episodes |
| Rachel Wilson | Heather | 27/27 episodes |
| Christian Potenza | Chris | 27/27 episodes |
| Clé Bennett | Chef Hatchet | 25/27 episodes |
| Novie Edwards | Leshawna | 25/27 episodes |
| Dan Petronijevic | Geoff | 25/27 episodes |
| Clé Bennett | DJ | 23/27 episodes |
| Stephanie Anne Mills | Lindsay | 22/27 episodes |
| Kristin Fairlie | Bridgette | 21/27 episodes |
| Scott McCord | Trent | 20/27 episodes |
| Katie Crown | Izzy | 18/27 episodes |
| Brian Froud | Harold | 17/27 episodes |
| Emilie-Claire Barlow | Courtney | 16/27 episodes |
| Lauren Lipson | Sadie | 15/27 episodes |
| Sarah Gadon | Beth | 14/27 episodes |
| Peter Oldring | Cody | 13/27 episodes |
| Stephanie Anne Mills | Katie | 11/27 episodes |
| Peter Oldring | Tyler | 11/27 episodes |
| Adam Reid | Justin | 9/27 episodes |
| Carter Hayden | Noah | 8/27 episodes |
| Peter Oldring | Ezekiel | 6/27 episodes |
This is the process in Total Drama Island in which a camper is eliminated; initially, the team that lost the most recent challenge, unless the last challenge happened to be a reward challenge, would vote for a camper and the one with the most votes against them would be voted off the island. Since the teams eventually merged, all the campers began to vote for each other and only the challenge winner received immunity. In certain challenges, a camper would be automatically eliminated without any votes if they lost a challenge after the merge.
Rewards
Many challenges award prizes to the winner or winners. The usual prize is invincibility for the winning team or contestant. However, on other occasions, rewards were given out as bonuses for their accomplishments.
Total Drama Island: Totally Interactive!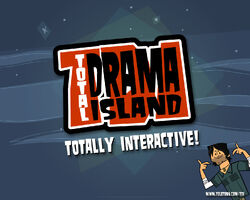 The official website for this season, Total Drama Island: Totally Interactive! features, along with information about the series, an interactive campsite with information about the characters, games themed on the episodes, earnable wallpapers, and screensavers, and a camper creator where the player is able to create their own character. On Cartoon Network's website, it was replaced by Total Drama Action EXTRA, though it was still accessible until the website was taken down.
Production
Camp TV is the original prototype for Total Drama Island. In it, there were only eighteen of the current contestants which all had different prototype designs, though some of the designs resemble those of the current contestants and interns.
Censorship in United States
Total Drama Island episodes were usually rated TV-PG in the United States, for suggestive dialogue and aggressive language. On occasion an episode would be rated TV-PG D for mild flirtatious dialogue, such as in X-Treme Torture.
Availability
DVD
Cartoon Network's DVD features the entire season and is edited with the censoring of some dialogue, whilst the Australian DVDs (released by Madman Entertainment) are split into two collections and are unedited, retaining the original dialogue as the unedited seasons of Total Drama broadcast there.
Netflix
Total Drama Island has been released onto Netflix. This season contains unedited dialog and full screen, 16:9 aspect ratio. It also includes all the episodes of the season.
Trivia
This is the first of 4 seasons to take place entirely at Camp Wawanakwa, with the others being Total Drama Island, Total Drama: Revenge of the Island and Total Drama All-Stars.
This is the first of two seasons in which the remaining two finalists are from the same team. This happens again in Total Drama All-Stars.
This is the only season to not feature a double-elimination.
This is the only season in which both teams' lowest-ranking members are male.
This is the only season that does not feature a prize of one million dollars; the prize was $100,000 until Total Drama, Drama, Drama, Drama Island featured a million dollar grand prize, setting the trend for future seasons.
This is currently the only season where Izzy competes and is not the first of her team to be eliminated.
This season features the highest amount of eliminations of any season so far (including the two returning contestants and Gwen or Owen's loss in the finale), with twenty-three.
Excluding Total Drama Presents: The Ridonculous Race, this season features the highest amount of challenges and contestants of any season.
This season features seven irregular eliminations. This is the reverse of Total Drama World Tour, which featured only seven regular eliminations.
This is one of only two seasons to have its main promotional image be a moment from an actual episode, with the other being Total Drama World Tour.
Total Drama Island has been featured as a question on the game show Jeopardy!, with both Dodgebrawl and Brunch of Disgustingness being mentioned as part of the clue.
Gallery
See also
Ad blocker interference detected!
Wikia is a free-to-use site that makes money from advertising. We have a modified experience for viewers using ad blockers

Wikia is not accessible if you've made further modifications. Remove the custom ad blocker rule(s) and the page will load as expected.