Here is part 1. In the video, Christian Potenza (voice of Jude Lizowski on 6teen, Zed and the Skaters on Detentionaire, Chris McLean on Total Drama, and Trevor Troublemeyer on Sidekick), Christine Thompson (Fresh TV), and Terry McGurrin (the story editor and voice of Jonesy Garcia on 6teen and Don on The Ridonculous Race) answer the questions from the fans for 2 hours.
Questions answered from part 1:
Do you love doing Total Drama? (Jordon Rothe)
If you were given a chance to participate in The Ridonculous Race, would you do it? (Tim Darby)
Since you had Total Drama Action with movie challenges and Total Drama World with tour challenges in countries around the world, what about a season with video game challenges? (Justin Delisle)
Are you going to make new contestants inspired by the Brony Community? (Sean Horace)
What happens when Shawn sees Zombie Ezekiel? (Chandler Foster)
How long do you plan for TD to last? How do you feel when you see all the people that choose to watch each new episode? (Grayson McGeath)
6 questions were answered for this part.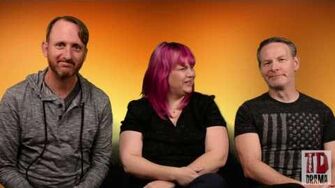 Here's part 2:
Questions answered from part 2:
I loved this show since it aired. Is there any way to get a giant original TDI cast signing meet and greet?! (egirl371)
How old are Noah and Owen? (Lea Wright)
After that episode Scarlett Fever, and I'm really concerned, but do you think Scarlett could return to the show, despite what she became at that episode that wasted that plot? There are some fans of the character who are hoping. (Julie Riley)
Who is the character Tom based off of? (I heard it was based off of Tom McGillis) (Krystal Casey)
Have you considered having TD OC's making cameos in Total Drama or the Ridonculous Race? Similar to Anne Maria, Chris, and Blainley's cameos in the Ridonculous Race Season 1 Finale. (Icequeen XOXO)
My question is about Courtney: Do you think she can ever be redeemed? Like how World Tour was Heather's redemption season, and All-Stars appeared to be Courtney's until that episode flushed those dreams down the Flush of Shame. Is there a chance she can redeem herself and make it into the Final Two after all her hard work? (SEGASister)
6 questions were answered for this part.
Stay tuned for part 3.
Ad blocker interference detected!
Wikia is a free-to-use site that makes money from advertising. We have a modified experience for viewers using ad blockers

Wikia is not accessible if you've made further modifications. Remove the custom ad blocker rule(s) and the page will load as expected.