Alright, hey everyone!!! AJ here again, I would just like to make a blog to point out a few things. The TD:ROTI talkpage is NUMBER 1 for TV show wikia hot spot pages. Don't believe me? Here.
Not only that, but the page is number 2 overall for entertainment wikis!!!!! Check out the right under hot spots.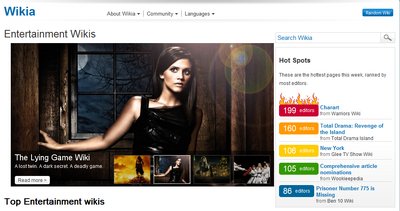 So my point is, 1) Congratulations everyone, and thanks, for helping make our wiki known!!
AJ signing off :) Bridgette_dj10 im winning this timeee 16:32, August 21, 2011 (UTC)
Ad blocker interference detected!
Wikia is a free-to-use site that makes money from advertising. We have a modified experience for viewers using ad blockers

Wikia is not accessible if you've made further modifications. Remove the custom ad blocker rule(s) and the page will load as expected.