This article/section features

spoilers

. Continue reading at your own risk.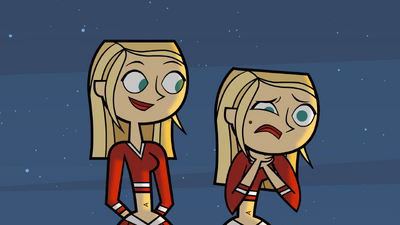 LAST TIME ON MY BLOG EVERYONE HATED IT BECAUSE I CHANGED FROM WHO I USED TO BE
FIRST RECAP SINCE WE DIDN'T GET ONE LAST TIME NOT SURE WHY JUST CN BEING LOONEY TUNES
Screaming aside the beginning with Jasmine and Samey is legitimately heartwarming
SHAWN AND JASMINE ARE CUTE TOGETHER
EXCEPT JASMINE IS GIANT AND REPRODUCING WITH HER WOULD BE MAD AWKWARD
MAN, SUGAR IS LARGE AND IN CHARGE
ELLA IS CUTE STILL
SKY GOT FRESH WATER FROM THE STREAM
I GOT FRESH SHUT THE HELL UP
EVERYONE'S RUDE TO ELLA SO I GUESS SHE'S GOING NEXT
RODNEY IS SILLY GOOSE
TOPHER'S LOVE FOR CHRIS IS MY LIFE
ALSO, TOPHER'S DESIGN IS LITERALLY JO WITH MALE PARTS
CHALLENGE IS BEING EXPLAINED DON'T CARE
CHEF JUST STANDS THERE CLE MUST'VE HATED VOICING THREE CHARACTERS, LET ALONE ONE
MAX AND SCARLETT IS ONE SOLID ASS SHIP
GOD DAVE X SKY IS BORING TO WATCH CAUSE YOU KNOW THAT SKY'S GOING TO EVENTUALLY FALL FOR HIM AND THEY'RE GOING TO GET TOGETHER ANYWAY WHY DO WE HAVE TO SIT THROUGH ALL THIS SEXUAL TENSION
AT LEAST SHE GOT HIT WITH BEES SO SHE'S NOT A PERFECT HUMAN BEING
SUGAR'S BUTTCRACK IS PROMINENT
I LIKE HOW RODNEY CROUCHES OVER IN THE CONFESSIONAL BECAUSE HE IS BIG
DAVE AND SKY JUST BANG ALREADY
ELLA IMPROVES MY EVERDAY LIFE WITH HER LOVELY ATTITUDE
WHY ARE FARM BOYS ON THIS SHOW ALWAYS GINGER?
CHRIS IS NOT 30 IT IS 2014 HE'S AT LEAST 36
ELLA AND SUGAR'S DYNAMIC IS LIFE
JASMINE'S COOL BUT LIKE I CAN'T EVER UNDERSTAND WHAT SHE'S SAYING THROUGH THAT THICK ASS ACCENT
AMY'S SLIGHTLY PSYCHOTIC HOW DID SAMEY LIVE WITH THIS GIRL IN THE SAME HOUSE FOR 16 YEARS
I FEEL LIKE THE TAKE OUT FOOD IS JUST AN EXCUSE TO USE MUSIC THAT IS BARELY EVER USED ANYMORE
HEY, RETURN OF THE POISONOUS APPLE. CONTINUITY, HAVEN'T SEEN THAT IN A WHILE
DAMN, THAT ENDING WAS SHOCKING
DIDN'T ANYONE TAKE NOTE OF AMY'S BEAUTY MARK?
A pretty good episode. The middle part got kinda forgettable, but the ending easily justified any problems this episode had. GOOD STUFF, STAY TUNED TOMORROW.
FINAL RATING: B+