This article/section features

spoilers

. Continue reading at your own risk.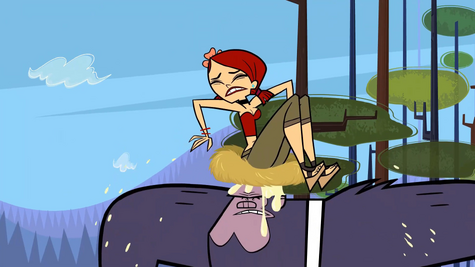 Welcome back to another review, where I hopelessly try to act like I still care about All-Stars, even though it's clearly doing nothing for me at this point.
So we start out the recap with Sasq- Oops, sorry, "The Yeti", as he uses to Flush of Shame as a literal toilet. Wow man, poop jokes. So fresh and new. I can't even revolve around the clever and inventive writing staff who whipped up this grand and never before seen joke. Well done, Alex Ganetakos. Well done.
"I can't believe Courtney's gone. Now who's gonna yell at me and tell me to do stuff I don't wanna do?"
Scott's the only saving grace left in this competition. Zoey and Mike are equivalent to the gunk stuck between my toes and Gwen's like, pregnant or something since she has mood whiplash every episode. Also, why did the font suddenly change back to Samdan in the TWELFTH EPISODE of the season?
"I'm the last original contestant left on the island."
Hahaha, not for long, we need more time for the dramatic and kooky relationship of Mike and Zoey!!!!!!11111 God, now that evil Scott is back, I don't have anyone to like. I think I enjoy the flies in the confessional more than everyone left. I think they bother me less than anyone else in All-Stars.
"The million dollars is in my grasp, and still no one has a clue that I'm not really Mike!"
When have you EVER had ANY concern for money, Mal? CHOOSE A MOTIVE. Also, the only reason no one has a clue is because your girlfriend is too stupid to function. PEARS have are more advanced in knowledge than she is. Okay, great brain scene. Not like that other plot, or reality, matter for anything. ... Mike dreams about kissing Zoey in the rain? Well, I guess this is his idea of a... WET dream. Also, they just reused animation from Grand Chef Auto. Five seasons in and this is the one they cheap out on animation??
"The first thing I'm going to do when I gain control is giving Zoey a real kiss!"
Wow, Mike. That's really a step up from looking into her eyes. You're a true pimp. I wish Vito could just be the main persona. Would anyone even care if Vito just took over forever?? We then cut over to the spa hotel, as I almost forgot that the main plot was going on.
"I am sooo bored! I miss my cottage!" "You mean mansion?"
YOU MEAN PLAYA DES FRIGGIN' LOSERS? Chris and Zoey are an interesting pair. Oh hey a poop joke wow just as funny and riveting a second time. Zoey then discovers the DVD of Mal's shenanigans, and discovers who he really is. I was expecting her to see this and be all, "Wow, Mike's acting pretty suspicious. Wonder what's up. :-/"
"Oh no! Surely he hasn't been Mal this whole time!"
Are you HIGH? So, with this incriminating evidence, Zoey is now going to find a solution to bring Mike back once an- Or have small talk with her mentally unstable boyfriend. Hm. Chef dressed as a parrot is probably the highlight of this season.

Chris in a pirate costume is nostalgic. How does Zoey even keep winning these challenges? I mean, I guess I can understand strength challenges, even though she spent one episode last season to suddenly learn acrobatics or something, but how did she even win an eating challenge? I have socks that weigh more than her. I kinda feel bad for Gwen. She probably has nothing to say to Scott, Mike, and Zoey. I mean, what would they talk about? Chef? Continuity, his name is Sasquatchanakwa, not "The Yeti".
"No way am I letting anyone else win this challenge, especially Mal!"
You know, instead of trying to stop him from winning a challenge, you could, ya know, call a therapist for YOUR BOYFRIEND WHO HAS MULTIPLE PERSONALITY DISORDER AND ISN'T IN CONTROL OF HIS ACTIONS. AND IT WAS NOT A COTTAGE, IT WAS NOT A MANSION, IT WAS GOD DAMN PLAYA DES LOSERS. WHY CAN'T THE WRITERS COME TO REALIZE THIS.
"Did he say life-threateningly?! Achoo!"
Okay, thanks for that, Gwen. Never thought I'd say it, but some Fang vs. Scott would be refreshing right about now. How did Chris know that Mal would reach into the chest? What if the turtle just stared awkwardly at him? The turtle making seal noises was probably the single most random/funny thing I've seen on this show in a while.
"Mike, you must bring me the long lost, original golden Chris statuette." Yeah, Mike. You have to find that long lost "golden" Chris. Good luck finding that "golden" Chris. I really hope you find that golden Chris. Have fun finding that GOLDEN Chris.
"If I can't win fairly, I'll just have to win unfairly."
Please stop talking. They coulda just kept the double elimination a secret till the end. Would've been more surprising that way. Couldn't they at least made a reference to Search and Do Not Destroy or Mutiny on the Soundstage? These past challenges are handed to them on a platter and they don't ever pull through with them. Scratch that, Fang's probably the only character left that I like. The flies gave me a bad vibe in that last confessional. Upon looking for THE YETI, Zoey throws a rock at the loudspeaker and breaks it. I guess Mal rubbed off on her a little bit.
"Thanks again, Duncan!"
HE HAS DONE NOTHING TO YOU. WHAT IS YOUR DEAL? Gee willickers, I wonder if Mal's going to kill Gwen. GUESS WE'LL JUST HAVE TO TUNE IN AFTER THE COMMERCIAL BREAK!!!!!!!!!!!
After spending the past commercial break slitting my wrists, we return to the show.
"C'mon, let go!"
Gwen, you're talking to a painting honey. Doesn't Mal find it odd that Gwen's having a conversation with herself? Mal FINALLY does something villainous though, as he slaughters Gwen. Jesus, man. Then we cut back to Zoey, as she prepares to capture THE YETI.
"Sorry in advance!"
Uggggh.
"And Zoey is the first one to find her loot! Will she be the first one back at the dock?"
She wins EVERYDAY now. GIVE SOMEONE ELSE A CHANCE, YOU SPOILED BRAT. Oh yeah, just to let you guys know, Scott's a farmer. Didn't want anyone to forget that vitally important piece of information. Probably one of the best facial expressions this show has ever done is when Scott pulls at Fang's nose. It almost looked Craig McCracken-esque. So Scott and Mal team up, which is obviously going to end up in Scott's elimination. Gwen ends up surviving, even though she's still dead to me, and accidentally smears Chris...esus's portrait.
"I need a darker brown for the hair."
Please don't.
"Ew! But the color is perfect..."
THAT IS DISGUSTING.
"Ew! Egg butt!"
Mal then sets up the most cartoony trap in the entire universe, as Scott ends up in a fishy situation. As the challenge ends, Zoey wins AGAIN. Okay, for anyone on this wiki who complains about Sierra and Alejandro godplaying, DID THEY WIN SOLO IMMUNITY THREE TIMES ALONE? DID THEY REQUIRE IMMUNITY WITH A SET OF SKILLS THEY HAVE FOR UNEXPLAINED AND VIRTUALLY STUPID AND UNREALISTIC REASONS? I THINK NOT. Mal is saved for the dumbest reason in the world, and Gwen shows up with Chris's portrait. HAHAHA, POOP. SO CHARMING. Chris vomits, and Gwen is eliminated. Which means three Revenge of the Island contestants are the final three. Good thing commercials are coming up, I'm due for a good old fashion projectile vomit.
"Mal is the original personality?!"
Mike, I don't care.
"I can't believe it!"
Mike I literally do not care.
"Aw, thanks!"
Do. Not. Care.
"But if I'm not the original..."
Don't care, don't care, don't care.
"Nice try Mal! But you haven't won yet!"
I COULDN'T CARE LESS. So Mike rolls his brain into... a key. I don't know anymore.
"Good luck Zoey! I really hope you win!"
Okay when did you even become friends.
"Next time I hope we're on the same team!"
Nope, you aren't in Pahkitew. Too bad I never have to see your pale face again after this season!!!!!!!! Wonder who Zoey's going to pick. I'm guessing Scott. I know she loves Mike, but he's too far gone to ever come back again. It would only be logical that she send Mike home so he can get the proper psychiatric help that he deserves and so she ca-
"I promised a friendship finale, but things have seriously changed. But, I'm a girl of my word, so sorry Scott."
................. That means.... That the final two..... Is.....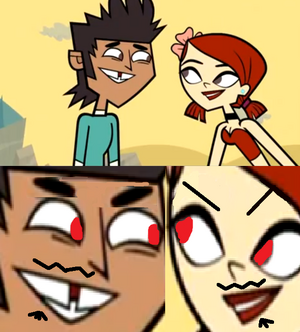 Mike and Zoey are the final two. Mike and Zoey are the final two. Mike and Zoey are the final two. Mike and Zoey are the final two. Mike and Zoey are the final two. Mike and Zoey are the final two.
It's funny, because this episode really wasn't that terrible, I just really don't care anymore. I'm not invested in the least bit with the characters that are left, and the final two doesn't help at all. And the pure fact that it's MIKE AND ZOEY is plainly ridiculous, but I'll save that giant rant for next week. Anyway, the one thing this season is proved is that the episodes aren't intolerably bad, besides Moon Madness, but lately, they've been incredibly boring. I can't remember a single thing of memorability from Sundae Muddy Sundae. It seems we've arrived exactly where we left off from last season: little investment, bad characters, and little to no excitement. Well, there is one thing I'm looking forward to in the finale.
ALL HAIL JO'S SWEATPANTS. Tune in to my final review next week, where I rip this finale a new one.
FINALE RATING: 6.5
+ Decent challenge
+ Fang and Scott
- Nothing memorable
- Awful final two revelation
Ad blocker interference detected!
Wikia is a free-to-use site that makes money from advertising. We have a modified experience for viewers using ad blockers

Wikia is not accessible if you've made further modifications. Remove the custom ad blocker rule(s) and the page will load as expected.