This article/section features

spoilers

. Continue reading at your own risk.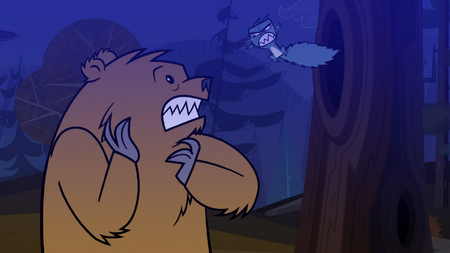 Welcome back to another lapse in my sanity. Last week, it seemed like things were getting pretty heated on my review. There was a war among the Zoey and Anti-Zoey fans. So, this week, instead of constantly insulting Zoey in my review, I've decided to get it over with right away. Here's my problems with Zoey.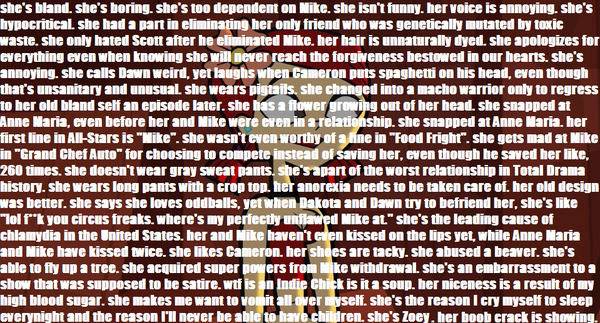 Oh yeah, and she's a COMPOUND OF BLAND PERPLEXIONS, FORCED TO FEAST UPON THE SCREENTIME OF THOSE WITH CHARACTER AND PURPOSE. Anyway, on with my review, for anyone who's still reading and not jumping right to the comments to defend Zoey. Well, on the bright side, she's pretty. Anyway, this episode is easily one of the worst in the series. Bottom 5, no doubt. Expect a lot of caps lock.
At this point, I'm more excited for Pahkitew than the rest of the season. We begin with Cameron eating poo, and then he falls over. Turns out the evil and maniacal Mike TRIPPED HIM OVER WITH THE POWER OF BEING ABLE TO QUICKLY PHASE HIS ARM THROUGH A WOODEN PLANK WHILE NONE OF THE VIEWING AUDIENCE NOTICES!!!!!!!!!!!!!!!!! Well, Zoey notices... even though... she was facing the other way. Whatever. So far, this persona's voice is more intimidating than anything he's done so far. What's he gonna do next, put Duncan's hand in warm water while he's sleeping? Sierra screaming in Zoey's ear is easily as funny as this episode gets. Heather and Alejandro eating dinner together alone, because Gwen's bulimic, Courtney eats newborn babies, and Scott licks his body hair like a cat.
"It's like he's lost interest in me... No one has ever lost interest in me."
ARE WE JUST GOING TO IGNORE THAT HEATHROLD EVER EXISTED?
That bird…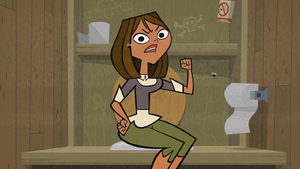 +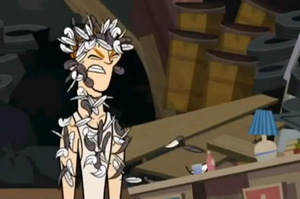 =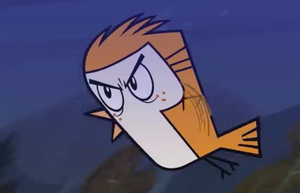 ?
Scott x Courtney is getting weird. I feel like Scott wouldn't be a very clean lover. As Chris introduces the challenge, he mentions that this challenge is a tribute to The Treasure Island of Dr. McLean, which reminded me, that atrocity existed. Didn't Gwen like, die in that episode? I literally cracked up at map Chris used to demonstrate, just because whoever made it put the time and effort into animating a 2-D silhouette mode of Alejandro walking on his hands. I wonder if they replaced Alejandro's voice actor because his old one didn't want his character walking on his hands. I'd probably do the same. It annoys me that this challenge literally ends up having nothing to do with that challenge, though. One of the many inconsistencies of this episode.
So, Zoey tells Cameron about... how... Mike tripped him. WHY WOULD YOU DO THIS. I KNOW I'M COMPLAINING ABOUT ZOEY, BUT REALLY, HE'S YOUR BOYFRIEND. YOU DON'T TATTLE ON HIM FOR DOING SOMETHING, WHY WOULDN'T YOU TALK TO HIM. WHY WOULD YOU PURPOSELY TRY TO GET HIM IN TROUBLE. YOU ARE A TERRIBLE GIRLFRIEND. HOW IS IT THAT YOU CAN DODGE 78 LEECHES, FLY UP A TREE, KICK A BEAVER IN THE GENITALS, LAUNCH A ROCK WITH A NECKLACE AT A MUTANT SHARK, DEFEAT A MAN-EATING MUTANT PLANT, BUILD AN AIRPLANE WITH YOUR BARE HANDS, YET YOU CAN'T JOT DOWN THE BASICS OF HUMAN RELATIONSHIPS. I THINK SHE DESERVES TO GET EATEN BY THAT DUCK IN A LATER SCENE. WHY WAS SHE EVEN SCARED? WHAT IS IT GOING TO DO? BILL YOU TO DEATH? ALL DUCKS DO IS QUACK AND ROLL AROUND IN THEIR OWN URINE. AND YOU'RE SERIOUSLY TELLING ME THAT WHILE YOU WERE PERFECTLY ABLE TO SCALE A TREE TWO EPISODES AGO, YOU CAN'T FIGHT OFF A DUCK. KICK IT IN THE FACE, THROW SOME BREAD AT IT. DO SOMETHING. AND EVEN IF YOU NEED MIKE FOR THIS, WHAT IS HE GOING TO DO? HAVE MANITOBA SMITH COME OUT AND SEXUALLY HARASS IT? THIS IS A VALID POINT. YOU CANNOT GET MAD AT ME FOR A VALID POINT. I'M SO ANGRY. THIS EPISODE DISGUSTS ME ALREADY.
"Hey, Mike, why'd you break my glasses?"
This is so hilariously straightforward. Were they just running alongside each other all this time when Cam finally got the courage to ask that? Oh, and Zoey is casually ratted out, to which she gives a guilty frown. Yeah, that's cool. APOLOGIZE, YOU SKANK. Cameron runs into a tree, hardy hardy har.
"Blue moonlight? Extraordinary!"
WHO SAID YOU COULD TALK?
The blue moon thing is ridiculously cartoony, but it might've been able to work. After all, the animals always make for funny scenes. As long as it isn't Fang.
So, somehow the blue moon triggers TMO, as he reveals his plan to cause chaos, which I'm assuming is replacing Chris's shampoo with itching powder.
"Hi, I'm a bug-eyed weirdo and everybody loves me!"
Ain't that the truth. That crocodile is adorable. OH COME ON, the moon affects humans too? What else does it affect? TREES? PANTS? THE KUMQUATS ON LESHAWNA'S DESIGNER T-SHIRT?
"I've never seen Heather be so sweet and kind… and it is terrifying."
Alejandro is right. It's odd to see someone do something that would most likely be viewed as unusual to a large group of people. You know? Like maybe…
WALKING ON YOUR HANDS.
But yeah, Heather hugging a crocodile made me feel uncomfortable. So uncomfortable that Courtney and Scott have to fondle each other in the background just to feel some form of security. I'd be able to get through the ridiculousness of this episode easier if everyone wasn't wearing clothing items made of lunch meat. Why do the bunnies' ears look so different? And speaking of which, whatever happened to Bunny? Did DJ just leave him on Camp Wawanakwa, or did he end up like all the other animals DJ crucified in the third season? Maybe we know what kind of meat those hats are made of.
Scott's annoying again. God, Cameron is so unpleasurable to hear. I don't mean to sound racially insensitive, but if they were going to choose one black character to stay, couldn't it have been Lightning? No wonder Cameron's mom kept him in a bubble. Who could put up with this kid? I'd go back in time just to abort him. I just hope I'm allowed to make fun of Cameron rather than Zoey.
Speaking of Zoey, a duck with… teeth (UH), is about to eat her, but Mike tells Cameron that she's fine. Well, to be fair, it's a DUCK. Anyway, Cameron should not wear glasses more often. He's still fugly, but a quarter-ounce less fugly without glasses. By this point, I literally have no idea what's going on. Heather is bouncing up and down.
"Maybe she's part wolf?"
This really made Courtney laugh? It wasn't even funny. I'm not sure I even get it. I kinda wanna kick Gwen in the throat.
"You've lost control of your personalities ever since the beach challenge. That's when Scott hit you over the head with a shovel."
Was Cam even paying attention to this? If so, why didn't they take Mike to like, a hospital? Did the Hamsters just casually wipe the blood off his skull with a paper towel? GOD, I HATE EVERYONE.
I love how the writers can't keep up with continuity, yet they can remember than Sierra weaves basket. The Vultures come across a bridge, so Gwen walks off. YEAH, CAUSE SHE'S SUCH A TEAM PLAYER. SHE HAS SPENT THE LAST TWENTY YEARS COMPLAINING THAT HER TEAM WON'T WORK WITH HER. GEE, I WONDER WHY. I WILL EAT YOU. Jesus Christ, Mike just abused an animal. I don't even know if I care why Duncan and Mike know each other. And Evil Mike is being so painfully obvious right now.
"Hehehe... Toodles."
UHHHHHHHHHHHHHHHHHHHHHHHHHHHHHHHHHHHHHHHHHHHHHHHHHHHHHHHHHHHHHHHHHHHHHHHHHHHHHHHHHHHHHHHHHHHHHHHHHHHHHHHHHHHHHHHHHHHHHHHHHHHHHHHHHHHHHHHHHHHHHHHHHHHHHHHHHHHHHHHHHHHHHHHHHHHHHHHHHHHHHHHHHHHHHHHHHHHHHHHHHHHHHHHHHHHHHHHHHHHHHHHHHHHHHHHHHHHHHHHHHHHHHHHH.
I'm not even sure if I get why Scott ran across the bridge like that. OH YEAH JUST A KOOKY COINCIDENCE THE BEAVER JUST HAPPENED TO BITE THROUGH THE ROPE. The butt obsession this season has surpassed the bald fetish for most overdone joke.
"If I don't die on this bridge, I'm going to kill Gwen for taking the long way around and costing us the challenge."
Wh- I- WHAT. HOW IS IT GWEN'S FAULT. IF YOU LISTENED TO HER, YOU WOULDN'T BE RISKING YOUR LIFE. YOU AREN'T A NICE PERSON, COURTNEY.
I honestly don't get Heather's plan at all. Why did she need to at act nice? What was it to prove? This is about as logical as ALEJANDRO WALKING ON HIS HANDS. The first middle finger in seasons is by a beaver. And TDI this is not. Back then, the beaver would've just been thrown off the cliff and no one would've cared. But since the writers are afraid they'll get complaints for animal abuse, they had to give the beaver a parachute. Well, you know what, there's also a character with Multiple Personality Disorder as his stereotype. I don't think animal abuse will help your case any further.
Duncan's annoying for bringing up Courtney, but literally, Gwen needs to chill out. Duncan's been supportive the whole season and she's been practically ignoring him. I don't get it, is she pregnant or something? Why is she so irritating. Also, her confessional is probably one of the worst written confessionals ever. And the line delivery was awful.
We were SO close to watching Zoey die. I MADE FUN OF GWEN AND COURTNEY. MAKING FUN OF ZOEY IS TOLERATED. And then some more stuff happens that, at this point, I just don't care. Then, in one of the DUMBEST SCENES EVER, Gwen helps save Courtney's life by using a stick.
"No I wouldn't, if we were, I'd be one step closer to a million dollars, and Gwen would be deer food."
WHY DOES GWEN EVEN LIKE COURTNEY. IS SHE JUST GOING THROUGH A LES PHASE? WHERE IS TRENT WHEN THIS IS GOING ON? IS HE JUST REWATCHING GWENTNEY SCENES NINE TIMES TO RELIEVE HIS SEXUAL TENSION?
"They don't need you to narrate, Blahlejandro?"
Hey, how'd you like to lose all your teeth? The transition into commercial break just shows what little effort was put into this episode. Chris just awkwardly announces the winners to the challenge. BUT IT'S NOT LIKE THE EPISODE COULD GET ANY WORSE, RIGHT?
"Ugh, I can't do this anymore, it's over!"
WHAT THE. WHAT. WHAT. WHAT. WHAT. WHAT THE. WHAT. WHAT. WHAT. WHAT. WHAT THE. WHAT. WHAT. WHAT. WHAT.
THIS WAS DONE IN A MILLISECOND. IF YOU HAVE A PROBLEM, CALMLY TALK IT OUT. IT TOOK GWEN AT LEAST FOUR EPISODES TO DEAL WITH PSYCHOPATHIC TRENT. THIS WAS DONE IN ONE SCENE. IF ANYTHING, GWEN BROUGHT UP COURTNEY MORE TIMES THAN DUNCAN HAS. YOU HYPOCRITICAL GOTH FREAK. I HOPE COMBAT BOOT GETS STUCK IN A GARBAGE DISPOSAL. YOU DESERVE THE VOMIT THAT DUNCAN SPEWED ONTO YOU LAST EPISODE. I HOPE YOU TRIPPED ON THE WAY OUT OF THAT CONFESSIONAL. NO, I HOPE YOU TRIPPED AND FELL ON A PINE CONE. NO, I HOPE YOU TRIPPED ON A RABIES INDUCING SQUIRREL, GOT MALARIA, ENDED UP WITH A NOSEBLEED EVERY TIME YOU ATTEMPTED TO GET SLEEP, AND THEN DIED A SLOW PAINFUL DEATH, BUT ONLY AFTER FALLING OFF THE TOP BUNK IN YOUR CABIN. GOD.
Oh yeah and surprised Cameron's a Villain now HAHAHA ISN'T THAT DANDY. This is literally the most pointless thing in the world. And it only means that there's going to be a double elimination now. WHOOP-DEE-FREAKIN' DOO. But not before we can get a romantic moment from Scourtney, which was all started by Scott eating food off of Courtney's face. WHERE'S PAHKITEW WHEN YOU NEED IT?
I'd just like to thank Ed MacDonald for writing this mixed bag of an episode episode. The characters were terrible, the challenge made no sense and had nothing to do with that other atrocity, everyone was out of character, the shocker ending wasn't even good, or shocking, and there are too many inconsistencies to count. The episode's only saving grace is that it is pretty funny. But a handful good jokes aren't enough to stop the anal bleeding that this episode caused. I'm going to go shower that wipe off the dirt and tears that this episode left behind. And for once, Zoey was actually one of the better characters. So, while the humor was worth a watch, the rest of it wasn't.
FINAL RATING: 5
+ Funny jokes
- Terrible writing
- Awful character development
- Lame and poorly recycled challenge
- Inconsistency in overall plot
Ad blocker interference detected!
Wikia is a free-to-use site that makes money from advertising. We have a modified experience for viewers using ad blockers

Wikia is not accessible if you've made further modifications. Remove the custom ad blocker rule(s) and the page will load as expected.