This article/section features

spoilers

. Continue reading at your own risk.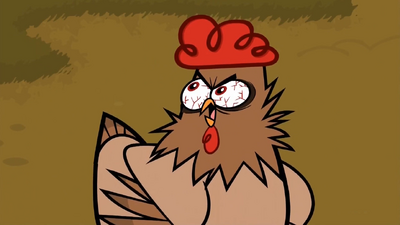 Alright, I won't scream this whole review cause people got sad with me.
Okay is every episode just generally going to start out with Jasmine
And Samey
Why is Samey the only one with pajamas?
Why does Shawn have to not like zombies he's fine on his own I mean it's not like the zombie hating trait furthers his character in anyway
DO SOMETHING SCARLETT
Rodney's a cutie patootie
How does one stick a berry to their face
And how does it look like a beauty mark
It kinda makes me depressed that everyone is mean to Samey WHAT DID SHE DO
Ella is the reason I wake up every morning
Topher needs to do something too c'mon man add some substance
Doesn't anyone notice the blueberry on Samey's face
Clucky the Chicken is literally my favorite thing in the world
STOP BEING RUDE TO SAMEY IT'S NOT NICE
Obviously Amy is the most attractive girl I mean have you seen that blueberry on her face
Shawn cracks me up if it wasn't for his weird hate of zombies he'd be like the best character ever
Bloated Sky looks like she's pregnant with Dave's tan babies
Why is Max's hair purple
I was really hoping Dave and Shawn would smooch
Dave and Sky as a couple makes me want to VOMIT
STOP TALKING AND KISS HER
IT IS KISSING, YOU ARE NOT GETTING LAID
YOU'VE KNOWN EACH OTHER FOR 3 DAYS
WE ALL KNOW YOU TWO ARE GONNA HOOK UP
Dave's okay but Sky still struggles to find the key to my heart
Shawn is the bomb diggity
Ella is the only ray of sunshine in my cloudy life
WHY IS EVERYONE SO MEAN TO ELLA I'M GONNA CRY
Sugar and Ella's conflict is still stellar
Rodney's going Rodney's going Rodney's going
Sugar eating the tarantula made me pee a little
Clucky is my favorite character ever in this show ever
HAHAHA THEY'RE UNTYING KNOTS GET IT??? I LOVE YOU I LOVE YOU KNOTS LMAO CTFU
Ella is so nice that it makes me sob why can't I be her
Why can't I be a female
Clucky >>>>>>>>>>>>>>>>>>>
"Or if you want, Chef's making Chicken!" THAT'S NOT OKAY.
Dave and Sky stahhhhhhhhp
yeah Rodney's going surprise surprise even Chris realizes how obvious it is
Decent episode with decent stuff nothing spectacular but Clucky alone is worth a 10/10 and Ella
FINAL RATING: B
Ad blocker interference detected!
Wikia is a free-to-use site that makes money from advertising. We have a modified experience for viewers using ad blockers

Wikia is not accessible if you've made further modifications. Remove the custom ad blocker rule(s) and the page will load as expected.