This article/section features

spoilers

. Continue reading at your own risk.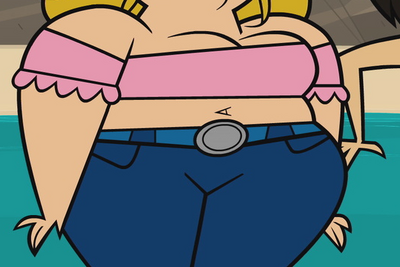 So we're starting off our episodes with a seaweed monster.
Hey first episode in like 3 years that didn't start with Jasmine and Samey
Instead it's Shawn and... Jasmine
oh great Sky and Dave hot diggedy dog
Dave's actually an interesting character when he isn't boning Sky
Which is always
Okay so I guess Dave and Sky are going out now why not
GOD DAVE IS SO PUSHY
Aw Ella <3 <3 <3
Max and Scarlett's bond is still tight
OH MY GOD CHRIS WHAT HAVE YOU DONE I'M SO SCARED
"Great job Sugar! My turn; cat!" Ella if I could love you anymore it wouldn't be possible
Jesus is this challenge simple or what that 2 minutes chopped off the 22 minute runtime really left us with some brief challenges
How does that blueberry stay stuck to Samey's face it's been a day
And how does Jasmine fit in the confessional
And how did everyone just coincidentally lose their bathing suits on the blimp I mean Samey has her pajamas don't you think she would generally have her swimsuit too
Sugar's eye shadow smeared a little
YO THEY PLAYED MY FAVORITE MUSIC WHEN THE CHALLENGE STARTED
This challenge bores me
Scarlett and Max >
Max zapped Ella? HOW SHOCKING HAHAHAHA no but don't shock her she's cute
I like Sugar but it kinda startles me how she's somewhat aroused by Ella's pain
"Do you know where I can find the white rabbit?" ily
GOD I DON'T WANT ANOTHER LOVE TRIANGLE YOU CAN DO SO MUCH BETTER THAN DAVE ELLA
Scarlett is humorous I enjoy her presence
Jasmine you are a strong independent Australian who don't need no man
Hey Chef's spoke that's surprising
Is that waterfall thing supposed to be a thing
Sky Ella put her hand on Dave's shoulder chill out
Sugar settle down
AWWWWW ELLA
Chris is still terrifying
Topher SHUT UP
"Pretending that didn't happen..."
Damn Shawn just pummeled Jasmine
Hey, does anyone remember Jasmine? Leshawna's video message from home? No? Okay.
Oh hey Amy.
BLAST FROM THE PAST BABY
"Samey's been pretending to be Amy the whole time. I thought we all knew that." wowie Scarlett just keeps making her way up in the world
YOU CAN'T BAN ELLA FROM SINGING THAT'S NOT HOW LIFE WORKS
Aw why can't Amy and Samey stay they're funny
A decent episode not as good as the past ones but still had some decent jokes and decentness I DON'T WANT A LOVE TRIANGLE THOUGH
FINAL RATING: B-
Ad blocker interference detected!
Wikia is a free-to-use site that makes money from advertising. We have a modified experience for viewers using ad blockers

Wikia is not accessible if you've made further modifications. Remove the custom ad blocker rule(s) and the page will load as expected.