Total Drama Action is the second season of Total Drama.
Overview
This season's challenges are based on movie genres, and the site where each challenge takes place is an abandoned film lot in Toronto. The grand prize for this season is $1,000,000. Fifteen castmates compete for forty-two days for one grand prize. When eliminated, contestants have to take the Walk of Shame and enter the Lame-o-sine, which takes them to the Total Drama Aftermath studio. Here, they are interviewed by two hosts about their experiences on the show and how they feel about their current position.
Summary
After the events of Total Drama, Drama, Drama, Drama Island, all of season one's contestants attempted and failed to win the million dollars in a final challenge at Camp Wawanakwa. Chris recruits the closest lucky fourteen (later fifteen) players that tied in the challenge to continue on to the second season, which takes place on an abandoned film lot in Toronto. For forty-two days, the cast is forced to compete in movie genre themed challenges for the one million dollar grand prize, faced with new challenges, surprises, and drama. Once split into two new teams, the Killer Grips and the Screaming Gaffers, the contestants take part in various movie-genre-based challenges, where the winning teams gain immunity or rewards for their successes. The losing teams are forced to attend an award ceremony, where they vote on who will receive the Gilded Chris Award or immunity, and who will be forced to take the Walk of Shame to the Lame-o-sine, and be eliminated from the competition. The lucky cast member who outlasts their other castmates wins the highly anticipated $1,000,000.
Episodes
There is a total of twenty-six episodes of Total Drama Action, and a special that led up to next season.
Cast
Fifteen teenage contestants, plus the host, Chris, and co-host and cook, Chef Hatchet, respectively.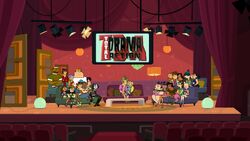 Elimination is a common tradition carried out throughout the entire Total Drama series. In Total Drama Action, the elimination ceremony generally happens after every other challenge. The team or players that haven't received immunity will vote off another contestant via electronic devices. The participant who receives the most votes leaves the competition.
Movie genres
In each episode's challenge (except for the aftermath episodes), there is a movie genre for each challenge. Including:
Rewards
There are many more challenge prizes in Total Drama Action than in the previous season. Since this season has less contestants and the same number of episodes, a large number of challenges are reward and non-elimination ones.
Total Drama Action EXTRA
The official Cartoon Network Total Drama Action site. It features videos, information about the contestants, games (see above), headlines, and exclusives, all on Total Drama Action recent stuff. Also, the Best. Game. Ever. challenge announcement changes weekly according to the previous episode of the season.
Best. Game. Ever.
An online game seen on Cartoon Network's official Total Drama Action site. It consists of RPG gameplay, where the player creates their own avatar and receives missions from Chris, which will change weekly, so it will relate to the last challenge done on the show. The player will be forming alliances, fighting beasts and obtaining money to buy more accessories for their avatar throughout the game.
The Big Picture
Another Cartoon Network game made on Total Drama Action. The main goal is to take high-quality pictures of the contestants, with as many castmates in them as possible while they run across film studios.
Availability
DVD
Since there are not any Region 1 and Region 2 DVD releases of this season, Australia released Total Drama Action: Collection 1, in a Region 4 DVD on November 2, 2011. Total Drama Action: Collection 2 was released on July 4, 2012.
Netflix
Total Drama Action has been released onto Netflix. This season contains unedited dialog and full screen, 16:9 aspect ratio. It also includes all the episodes of the season, excluding Celebrity Manhunt's Total Drama Action Reunion Special.
Trivia
As revealed by Chris in Total Drama, Drama, Drama, Drama Island, this episode takes place two days following the previous season.
Cody, Courtney, Eva, Ezekiel, Katie, Noah, Sadie, and Tyler did not originally qualify for this season. Courtney later debuted in Ocean's Eight - Or Nine.

Counting Courtney's debut, in this season there are three females and four males who do not compete. This is the opposite of Total Drama World Tour, in which four females and three males do not compete.
Eva is the only contestant who reached the merge in Total Drama Island but did not qualify for Total Drama Action.

This is the first season where an elimination occurs before teams are formed. The second time this happens is with another contestant in Total Drama World Tour.
This season is currently the only season where team captains select the teams, rather than the host making the decision or by rankings in a challenge.

This is also the only season in which the teams weren't formed in the first episode.

This is the first season to ever feature a double-elimination.
This season introduced the Total Drama Aftermath, in which the eliminated contestants reunite to talk about their experiences on the show.
This is the only season where none of the contestants swap teams.
Gallery
See also
Ad blocker interference detected!
Wikia is a free-to-use site that makes money from advertising. We have a modified experience for viewers using ad blockers

Wikia is not accessible if you've made further modifications. Remove the custom ad blocker rule(s) and the page will load as expected.