Total Drama: Pahkitew Island
Talk

1k
531pages on
this wiki
This article/section features spoilers. Continue reading at your own risk.
Total Drama: Pahkitew Island is the sixth season of Total Drama.
Summary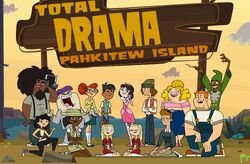 "Greetings Total Drama fans! It was time to find a new home for Chris McLean and the Total Drama Crew. As we all know, the Cree word for "explode" is pahkitew… so when we found Pahkitew Island in Western Canada – success! Welcome to Total Drama Pahkitew Island! And, since they were starting anew, it only seemed right to bring in 14 brand new victims. Did we say victims? We meant contestants, but… tomatotomahto!
Once again teen freaks, geeks, egos and cowards smash, crash, and bash their way through horrifying challenges with one goal in mind: winning that one million dollar prize! Who will take it home? No one knows until number 13 drops and the pain finally stops, here on Total! Drama! Pahkitew Island!!!"
Cast
The season will feature fourteen new contestants:
Sky, female
Jasmine, female
Topher, male
Leonard, male
Ella, female
Beardo, male
Dave, male
Shawn, male
Scarlett, female

Talkative, has first known confessional of the season

Max, male

Takes pride in being "evil"

Rodney, male
Amy, female

Twins with Samey
Cheerleader

Samey, female

Twins with Amy
Cheerleader

Sugar, female
Amy, Jasmine, Max, Rodney, Samey, Scarlett, and Topher are placed on Team Kinosewak.
Beardo, Dave, Ella, Leonard, Shawn, Sky, and Sugar are placed on Team Maskwak.
History
The new season was officially confirmed in a Teletoon press release on June 9, 2013. Shortly after, a promotional poster was found on TeletoonMedia.com with silhouettes of the brand-new fourteen-person cast. On October 8, 2013, the storyboard of the second half of episode one, titled "So, Uh This Is My Team?", was leaked online.
A press release posted on February 25, 2014 revealed rough airdates for Pahkitew Island; summer 2014 for Cartoon Network and fall 2014 for Teletoon. A promo picture for the season was posted via a Cake Entertainment press release sometime in mid-March. On March 28, Fresh TV revealed on their Tumblr that the season would air in July 2014 on Cartoon Network.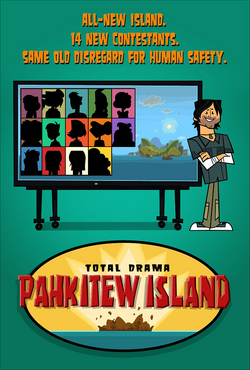 Trivia