Total Drama: Pahkitew Island
Talk

1k
518pages on
this wiki
This article/section features spoilers. Continue reading at your own risk.
Total Drama: Pahkitew Island is the sixth season of Total Drama.
Summary
Not much is known of the sixth season as of late, although a Teletoon press release confirmed that it is scheduled for a fall 2014 release. Along with that, the season will take place at an all-new location, Pahkitew Island.
This season will contain fourteen new contestants and thirteen episodes.
Cast
The season will feature fourteen new contestants:
Sky, female
Jasmine, female
Topher, male
Leonard, male
Ella, female
Beardo, male
Dave, male
Shawn, male
Scarlett, female

Talkative, has first known confessional of the season

Max, male

Takes pride in being "evil"

Rodney, male
Amy, female
Samey, female
Sugar, female
Amy, Jasmine, Max, Rodney, Samey, Scarlett, and Topher are placed on Team Kinosewak.
Beardo, Dave, Ella, Leonard, Shawn, Sky, and Sugar are placed on Team Maskwak.
History
The new season was officially confirmed in a Teletoon press release on June 9, 2013.
Shortly after, a promotional poster was found on TeletoonMedia.com with silhouettes of the brand-new fourteen-person cast.
On October 8, 2013, the storyboard of the second half of episode one, titled "So, Uh This Is My Team?", was leaked online.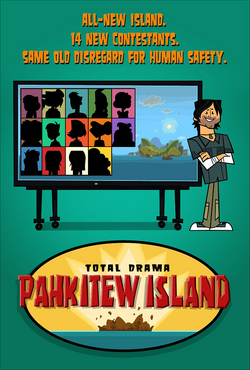 Trivia