Total Drama: Pahkitew Island
Talk

3k
574pages on
this wiki
This article/section features spoilers. Continue reading at your own risk.
Total Drama: Pahkitew Island is the second half of the fifth season of Total Drama.
Summary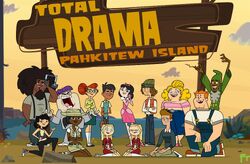 "Greetings Total Drama fans! It was time to find a new home for Chris McLean and the Total Drama Crew. As we all know, the Cree word for "explode" is pahkitew… so when we found Pahkitew Island in Western Canada – success! Welcome to Total Drama Pahkitew Island! And, since they were starting anew, it only seemed right to bring in 14 brand new victims. Did we say victims? We meant contestants, but… tomatotomahto!
Once again teen freaks, geeks, egos and cowards smash, crash, and bash their way through horrifying challenges with one goal in mind: winning that one million dollar prize! Who will take it home? No one knows until number 13 drops and the pain finally stops, here on Total! Drama! Pahkitew Island!!!"
Episodes
Prizes
The process of elimination in this season is similar to the ones in Total Drama Island, Action, World Tour and All-Stars. The elimination takes place around a campfire on the new island and the only change from previous seasons present is the location. Marshmallows return as the symbol of safety and if a contestant does not receive one, they must take the Cannon of Shame, representing their elimination from the competition.
Characters
Fourteen teenage contestants, plus the host, Chris, and Chef Hatchet, the cook and the co-host of the show
| Voice actor | Role | Episode count |
| --- | --- | --- |
| Christian Potenza | Chris | 13/13 episodes |
| Clé Bennett | Chef Hatchet | 13/13 episodes |
| Zachary Bennett | Shawn | 13/13 episodes |
| Sarah Podemski | Sky | 13/13 episodes |
| Rochelle Wilson | Sugar | 12/13 episodes |
| Katie Bergin | Jasmine | 12/13 episodes |
| Bruce Dow | Max | 10/13 episodes |
| Kristi Friday | Scarlett | 10/13 episodes |
| Daniel DeSanto | Dave | 10/13 episodes |
| Christopher Jacot | Topher | 8/13 episodes |
| Sunday Muse | Ella | 6/13 episodes |
| Bryn McAuley | Samey | 5/13 episodes |
| Bryn McAuley | Amy | 4/13 episodes |
| Ian Ronningen | Rodney | 4/13 episodes |
| Clé Bennett | Leonard | 2/13 episodes |
| Clé Bennett | Beardo | 1/13 episodes |
History
The new season was officially confirmed in a Teletoon press release on June 9, 2013. Shortly after, a promotional poster was found on TeletoonMedia.com with silhouettes of the brand-new fourteen-person cast. On October 8, 2013, the storyboard of the second half of episode one, titled "So, Uh This Is My Team?", was leaked online.
A press release posted on February 25, 2014 revealed rough airdates for Pahkitew Island; summer 2014 for Cartoon Network and fall 2014 for Teletoon. A promo picture for the season was posted via a Cake Entertainment press release sometime in mid-March. On March 28, Fresh TV revealed on their Tumblr that the season would air in July 2014 on Cartoon Network. However, just a month later on April 29, the season's Cartoon Network airdate was officially confirmed to be May 27. The May 27 date was later revealed by Julie Giles to have been changed with an airdate in the United States not being known at the moment. The actual airdate for the season premiere was July 7, 2014. Cartoon Network announced that subsequent episodes of the season will be aired in a two-week nightly marathon that would end on July 18, 2014.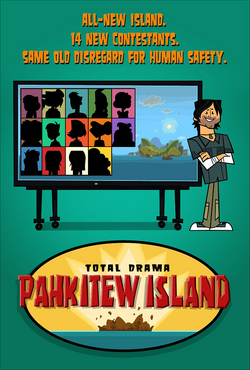 Trivia
This is the first season of Total Drama to feature the third set of contestants.
As of this season, all seasons' third ranking contestants were eliminated abnormally.
This is the first season in the history of Total Drama to not have a clearly-defined main antagonist, with two different contestants having villainous tendencies.

Scarlett, who had several hints early on at a darker true nature, first acted as Max's sidekick, giving him ideas on how to sabotage the other team and be more "evil." While she initially planned to let Max take the blame for "his" ideas, she grew visibly infuriated with Max calling her his "sidekick," and eventually decided that she would stop at nothing to eliminate Max. She finally revealed her true nature in Scarlett Fever, when she took control of the island and threatened to kill all the remaining contestants if she didn't receive the million dollars. However, she was outsmarted and eliminated alongside Max.
Sugar, the only villainous contestant on Waneyihtam Maskwak, made clear early on that she was determined to win the game, with her ruthless, competitive, and greedy nature explained by the fact that she had previously competed in beauty pageants. She was more game-focused than Scarlett, first orchestrating Ella's elimination due to her strong dislike of her. However, she didn't stop there, as she then focused on breaking up Dave and Sky due to seeing a relationship as a threat, and also tried to form alliances; first with Shawn (which failed), and then successfully with Sky. Although she attempted to betray Sky and get her eliminated in Sky Fall, she caused Jasmine's elimination instead. Also, she noticeably outranked both Max and Scarlett in the overall season. Thus, from the purely statistical standpoint, Sugar ranks as the most successful of the three potential antagonists, coming in third place and causing two eliminations.

This season shares more similarities to Survivor than any other season.

The teams are randomly selected as opposed to a preselection of some sort.
No shelter, food, water, or any other provisions are provided to the contestants, meaning they must build their own shelter and find their own food.
Some episodes' titles come from quotes from the contestants.
The team names are based on the language of the Cree, similar to how Survivor team names are based off words or names of tribes from the area in which the season takes place.

The first two male competitors eliminated were both voiced by Clé Bennett while the first two female contestant eliminated are voiced by Bryn McAuley.
This is the only season where not a single contestant from the first generation appears at all.
This is the first season since Total Drama Island where all three finalists are all originally from the same team, although one of them had been switched to the opposing team shortly before the merge.
This is the first season since Total Drama World Tour to not feature a hidden immunity idol.
This is the first season since Total Drama World Tour to feature only one team switch.
This is the second season since Total Drama: Revenge of the Island where three of the four finalists are of one gender, while one is of the other gender; in this case, Shawn is the only male in the final four.

This is the reverse of Total Drama: Revenge of the Island, where Zoey was the only female in the final four.

This is the first season where none of the contestants are ever shown in their swimsuits.
Gallery