Team Amazon is one of the three opposing teams in Total Drama World Tour. This team was formed in Walk Like An Egyptian - Part 1, and consists of Cody, Courtney, Gwen, Heather, Izzy. However, in the second episode, Izzy switches with Sierra so that Sierra could get closer to Cody, whereas Izzy could be closer to Owen. Team Amazon is the superior team of Total Drama World Tour, winning the majority of challenges and losing only four of them. This is ironic, since the Amazons are made up of players who came last in the first challenge of the season (in contrast to the ironically named Team Victory), and they never seem to win the first challenge, which usually gives teams an advantage in the second. Their name was derived from the Amazons, the dominant female warriors in Greek mythology, and their team logo is the female gender symbol with a pink background.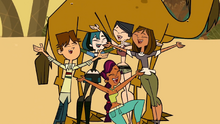 In Walk Like An Egyptian - Part 2, the team gets lost in the desert, but Izzy, who can "speak" with the camel, manages to lead them to the Nile. When they reach the river, Team Chris Is Really Really Really Really Hot is already there, and their canoe is halfway done. Izzy and Sierra compliment each others' love interests, both being on the other's team, leading them to the decision to switch teams. Sierra, who is an expert in weaving, quickly makes a canoe for Team Amazon, but the camel doesn't obey their orders and Izzy can't help them anymore since she is now on the other team. In the end, Alejandro asks Izzy to talk to the camel. Because of this, Team Amazon crossed the river and reached the finish line first. They won the challenge and stayed in the first class cabin.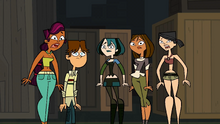 In Super Happy Crazy Fun Time Japan, a power struggle begins to emerge within the team, with Courtney, Gwen, and Heather constantly at each others' throats, fighting for the title of team captain. During the first challenge, Cody ultimately volunteers to go into the giant pinball, when the girls argue who should do it, but is forced to share the ball with Sierra. They end up scoring 37,000 points on the scoreboard, landing them in last place. As a result, they ended up getting last pick of props for their Japanese commercial. After much arguing, Courtney, Gwen, and Heather all storm off, leaving only Cody and Sierra to finish the commercial. However, the commercial they end up making is deemed the best by Chef since there's "something he likes about exploding doughnuts," landing them in first place, and back in the first class cabin once more.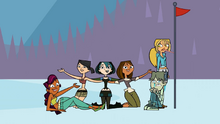 In Anything Yukon Do, I Can Do Better, the team is shown at the start of the episode in first class, all relaxing, except for Sierra who decided to give Cody a foot massage while he is asleep. They, along with the other two teams, have trouble while Chef and Chris make the plane have turbulence on purpose, and fall out along with everyone else. For the sled challenge, Courtney and Heather showed up to the sled at the same time, so Chris said that Courtney had to pull the sled for having her name's first letter earlier in the alphabet than Heather's. Chris forces Team Amazon to be Bridgette's backup singers during Stuck to a Pole. Team Amazon ends up crossing the finish line last, but end up in second place due to Team Victory not crossing the finish line with Bridgette. This marks their first time they don't score first place.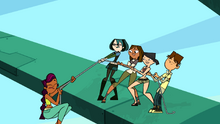 In Broadway, Baby!, Courtney and Gwen agree on voting Heather off the first chance they get. Heather decides to be nice to Sierra and Cody in hopes of not be eliminated. When Alejandro offers some food from first class, Sierra rejects it. In the confessional, she reveals that she knows Heather's intentions, and that she's playing her. On the challenge, Heather gets the baby carriage to show that she is a good team member. Gwen slides down the pole first, and gets hit. The rest of the team slides down and take their boat, but Cody is thrown out from it, accidentally. When the team is on the sewer system of New York, they are almost eaten by a crocodile. Later, Sierra takes the giant apple in the second part of the challenge, while Cody is the baby. Near the end of the challenge, Heather switches Noah's carriage with that of a real baby, out of revenge for Alejandro making Sierra ruin her relationship with Chris. Thanks to this, the team wins the challenge after coming in first. It was a reward challenge, so they won the giant apples. Cody opens one, which had candy. Sierra opens another, which had more apples. Heather opened the last one, which had a meat grinder. She threw it off the plane, despite Courtney's protests.
In Slap Slap Revolution, it is shown that Courtney was right in thinking that they would need the meat grinder, as one challenge involved stuffing a sausage large enough to ride down a hill. Courtney shovels meat while Heather packs the grinder and Cody stuffs the casing. Sierra uses most of their meat to make a 'Meat Cody' statue and loses it, due to it rolling down the mountain, thus giving them the smallest sausage. Heather has the idea to flatten it like a sled, but it doesn't work and they wind up last to the slap dance challenge, causing Cody to be put in "Der Penalty-Hosen." Only three members can compete, so Sierra, Heather, and Cody dance. Team Amazon is the only team to have two members make it to the slapping competition: Heather and Sierra. Heather is tackled by Leshawna and both go over their platforms. Alejandro takes a dive and lets Sierra knock him off and she secures a win for her team.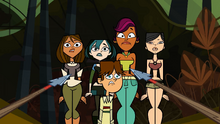 At the beginning of The Am-AH-Zon Race, Gwen immediately commented on how going to the Amazon may be lucky for the team. Sierra then says that they would lose for sure because of the bad luck that comment will bring. In the challenge, against Cody and Sierra's idea to stick with the others, Team Amazon picked the right path, which led them straight to the Zing-Zings who tied them up. In order to get batteries for the walkie-talkie to call for help, Gwen reached in Cody's pocket to get the flashlight, but got his EpiPen jabbed into her hand, causing her to become hyper. After Courtney got the flashlight from Cody's other pocket, they tried to make contact with Chris via walkie-talkie to get help, but he makes them sing instead. While Heather was singing, the Zing-Zings noticed her missing tooth and started to praise her as a goddess and put a gold tooth in her missing one's place. Chef arrives the next morning to release the team, telling them that they lost the challenge and that the Zing-Zings are actors, much to Heather's dismay. Before the barf bag ceremony, Courtney and Gwen convinced Sierra to help them vote off Heather, which she agrees as long as Gwen stays away from Cody. Chris shows the votes live revealing that Cody voted for Sierra, causing her to get very upset, and that Gwen said she would give Chris ten dollars if he "forgets" to give Heather a parachute when she was voted off. Heather is about to take the Drop of Shame when Chris reveals that the ceremony was fake and they were all safe. Heather then warns Team Amazon that she will get her revenge and have Alejandro for dessert.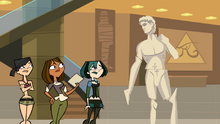 At the start of Can't Help Falling in Louvre, the team is sitting with Team Chris Is Really Really Really Really Hot in the economy-class section. Heather brags to Alejandro about how strong her team is, and that her teammates never get distracted by boys. However, this does not hold true for Sierra, since she mostly weeps the entire episode due to Cody trying to vote her off last week. In the sculpture re-building challenge, the team is assigned to rebuild the statue of David. Their major obstacle is that the bear holding a chainsaw chases after them, but they just end up having more difficulty with Sierra than the bear. Courtney, Heather, and Gwen mostly do the work, while Cody tries to get Sierra to stop crying and participate. Heather seemed to be the one giving orders, and a rocky start caused the team to fight for a moment with Team Chris Is Really Really Really Really Hot. Later on, they continue to have difficulty with their statue, yet manage to assemble theirs before the other teams do. Also, Cody finally manages to get through to Sierra near the episode's end by yelling at her but it turns out she was just playing hard to get to enjoy a whole day with Cody's 100% devotion.
In Newf Kids on the Rock, Sierra and Cody paddle the boat while Gwen fishes and Courtney directs. Heather leaves Courtney in charge and tries to make an alliance with DJ, and trick him into singing. Then Gwen and Courtney notices that a rock looks just like Duncan and paddles towards the rock, while Heather reaches the shore with DJ and because she got last place, had to shuck clams, and tricks DJ into drinking the vinegar. He then accidentally decodes the message and then tied with Team Chris Is Really Really Really Really Hot, making Team Amazon lose a challenge for the second time.
In Jamaica Me Sweat, Team Amazon wins the diving challenge when Gwen finally finds and retrieves the golden medallion from underwater. However, she has to sit out the next challenge due to being electrocuted by an eel. The competition then moves on to the bobsled challenge, in which Courtney and Heather sled as a pair, with Sierra and Cody as the other pair representing the team. They lost the challenge and once again had to sit in the economy class.
In I See London..., Team Amazon seek to find the Jack the Ripper type person in order to capture him and win the challenge in the process. Sierra, Cody and Heather were captured by "Jack the Ripper" during the challenge, leaving Gwen and Courtney to find it themselves. They later head off to a punk rock club and were surprised to find someone there and later captured him. It was revealed that the person they captured was Duncan, and despite it not being Ezekiel disguised as "Jack the Ripper," Team Amazon wins the challenge.
In Greece's Pieces, the new found friendship between teammates Gwen and Courtney starts slowly falling apart after its climax. Gwen wins the first challenge of the day against Duncan. Courtney and Sierra break out in a fight when Courtney makes a comment on Cody's weakness. The team loses this challenge when Courtney and Sierra lose sight of the competition, allowing Owen to defeat them. Heather wins a track-running challenge against Alejandro. Gwen and Duncan's kiss is revealed, causing everyone on the team, except Cody, to turn against Gwen. In the confessional, Cody says he needs to keep Gwen around, saying that, eventually, she has to kiss him. Ultimately, Cody wins a tie-breaker challenge against Tyler, which saved Team Amazon from a close elimination, although it was hinted that Gwen would've most likely gone home.
The girls of Team Amazon begin to turn on Gwen in The EX-Files. The group was stuck standing in a minefield, when they had to sing Boyfriend Kisser. Courtney tries to make the team lose the challenge so she has a chance to get rid of Gwen. They win in the end, much to Gwen's joy and Courtney's dismay.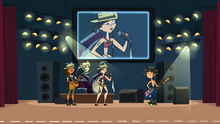 In Picnic at Hanging Dork, Gwen and Courtney continue to be mad at each other. Courtney convinced Sierra to vote Gwen off, while Gwen convinced Cody to vote for Courtney, leaving Heather as the swing vote. They won the emu race challenge and sang Shear the Sheep together. Team Amazon lost the second challenge, and for only the second time in the competition, faced elimination. Heather decided to vote for Courtney, but it ended up being a tie, because Cody unintentionally voted for Sierra. Gwen and Courtney had to feed a koala with their mouth as the tie-breaking challenge. At the end, Courtney wins the challenge and Gwen gets eliminated, making her the first contestant to be eliminated from the team.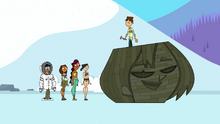 Team Amazon is unfocused in Sweden Sour. Cody misses Gwen after her elimination, Sierra tries to cheer him up, Heather is jealous that Courtney is flirting with Alejandro and thinks Courtney is still throwing challenges and Courtney is emotionally unstable. They argued over the building material until they let Cody build something: a model of Gwen's face. They manage to make it into the boat that Cody built and almost win the challenge, until Team Chris Is Really Really Really Really Hot used Owen as a cannonball that destroyed their boat, causing them to lose the challenge. Heather, Cody, and Sierra voted for Courtney until Chris said it was a reward challenge, much to the other three's disappointment and Courtney's gratefulness.
In Niagara Brawls, Chris announces that the remaining contestants have reached the merge, meaning that Team Amazon is officially broken up, with all of the members excluding Gwen advancing to the merge.
Members
Additional member
In Walk Like An Egyptian - Part 2, Sierra convinced Chris to have her and Izzy swap teams so they can be with their crushes.
Eliminations
Contestant

Gender

Rank

Team rank

Episode

Reason for elimination

Gwen

Female
9th
5th

Picnic on Hanging Dork

A tie in the votes caused

Courtney

and Gwen to participate in a tie-breaker challenge. Due to Gwen being allergic to eucalyptus, Courtney defeated her easily.

Courtney

Female
7th/6th
4th

Chinese Fake-Out

Due to a tie in votes and budget issues, Chris sends

Blaineley

and Courtney home in a double elimination.

Sierra

Female
4th
3rd

Awwwwww, Drumheller

Alejandro

was supposed to be eliminated, but Sierra accidentally blew up

Chris' plane

, when she brought out lit firecrackers on

Cody

's birthday cake, and

Chris

eliminated her for that in pure anger, even though she won the challenge.

Cody

Male
3rd
2nd

Hawaiian Punch

He and

Alejandro

tied for the final spot in the final two in

Planes, Trains, and Hot Air Mobiles

; they had to do a traditional fire dance tie-breaker challenge. Alejandro wins when

Heather

distracts Cody, allowing Alejandro to eliminate him.

Heather

Female
1st/2nd
1st

Hawaiian Punch

After knocking

Alejandro

down the volcano on an ice cube, she throws her own dummy into the volcano, causing her to win the challenge and

Total Drama World Tour

. Runner-up in Alejandro's ending.
Trivia
This is the most superior team in Total Drama World Tour, and one of the most successful teams in Total Drama history. Reasons for this include:

Out of the fourteen episodes of the season in which the three teams competed against each other, Team Amazon won eight of these challenges. They came in second place in only two episodes, and came in last place in four episodes.

As such, they are tied with the Screaming Gaffers for the most challenge wins.

This team currently holds the record for lasting the longest without losing one of its members, as every member lasted at least fifteen episodes. Furthermore, this one member was the only one who did not make it to the merge, by two episodes.

Team Amazon is the only team in Total Drama World Tour whose highest ranking member isn't a male.
Cody is the only male on Team Amazon, while the rest of the members are all females, hence the logo and name, which is a reference to the legendary all-female race of warriors and tall women.
Team Amazon is one of only four teams (as well as the only Total Drama World Tour team) to have all of its members make it to the merge at least once in the series, the others being the Screaming Gaffers, Killer Grips, and the Villainous Vultures.
Team Amazon is the only team in Total Drama World Tour to not have any male Killer Bass as members.
This is the only team in Total Drama World Tour to have only one member from the Killer Bass.
Team Amazon was the first team to go through a fake elimination ceremony.
This is the only team that Chris didn't nickname.
This team is tied with the Screaming Gaffers and Team Victory for the least amount of members of any team in the series, with only six each.
This team is tied with the Screaming Gophers and the Screaming Gaffers for the second highest amount of contestants who compete in four seasons, with three..
A majority of this team's members have been voted off in a fake elimination.
Courtney is the only member who was voted out normally. Gwen was eliminated via tiebreaker, Sierra was eliminated by Chris, Cody was eliminated for losing to Alejandro in the first challenge in Hawaiian Punch, and Heather made it to the finals.

No members of the team were eliminated via the normal process, because Courtney was eliminated in a double-elimination.

Cody is the only member of this team to not advance to Total Drama All-Stars.
Gwen and Heather are the only two members to have individual cameos in Total Drama: Revenge of the Island.

In addition, Courtney is the only member to compete in the first three seasons and not have an individual cameo in Total Drama: Revenge of the Island.
Gallery
See also
Ad blocker interference detected!
Wikia is a free-to-use site that makes money from advertising. We have a modified experience for viewers using ad blockers

Wikia is not accessible if you've made further modifications. Remove the custom ad blocker rule(s) and the page will load as expected.