Alliance
Talk

0
529pages on
this wiki
Throughout the show, many campers have made or joined an alliance to benefit themselves or to eliminate others. Most campers have had an alliance or were part of one at some point in time during the five seasons of the show.
Alliances
Heather's alliances: Heather was the first contestant to make an alliance in Total Drama. Her plan was to take two other campers to try to attempt the final three. She chose Lindsay and Beth due to Lindsay's stupidity and Beth's desperation. Heather made it clear though that she is the leader of the group. She mostly abuses her role as such by making her alliance do stuff that involved nothing of the challenges. This caused Beth to quit her alliance. Later in the show, Izzy joins for unknown reasons, although quits soon afterward without much of a complaint from Heather. After the bike race though, Lindsay lost because of Heather and had to go off the island. It is revealed before Lindsay left though that Heather never really liked her or anyone who was in her alliance.

Justin revealing that he doesn't care about Beth.

Added by

Juan Jose Rodriguez

Heather may have had another alliance with Harold in Total Drama Action, though with her elimination, it ended. Heather attempted to start up another alliance in Total Drama World Tour with Sierra. Though as of The Am-AH-Zon Race, when Sierra attempted to vote for Heather, it may have ended.
Justin's unofficial alliance: In Beach Blanket Bogus, Justin admits in the confessional that he will try to manipulate Beth's feelings and use her to make it to the finals. This may also involve Lindsay and Owen. However, this alliance never took hold, since the girls were able to break their obsession with Justin before he wanted to use them. This alliance was never considered official, but they influenced the outcomes and eliminations of Total Drama Action.
Leshawna's alliance: This is an alliance in Total Drama Action. Leshawna asks Duncan and Harold to be in an alliance with her in the episode One Flu Over the Cuckoos. Harold refused to join an alliance with Duncan, claiming he's a "worthless punk," though he admitted that, if Duncan were not to be in the alliance, he would agree to join. Duncan just laughs at the idea and jokes about it, angering Leshawna. Leshawna's motivation for forming this alliance is to "keep Heather off her back," as Leshawna's only other defenses against Heather were Bridgette and Gwen, who were both eliminated in past episodes. With Heather eliminated in Million Dollar Babies, Leshawna tried again to form an alliance between the three in Dial M for Merger, but with a new motivation: To make it to the final three. Harold and Duncan still refused to work together until Leshawna told them to cooperate just to get closer to the million dollar prize. Harold and Duncan reluctantly form the alliance with Leshawna. This alliance ends quickly with Leshawna's elimination in the next episode, courtesy of the second guys' alliance.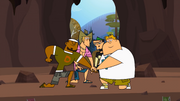 First guys' alliance: After realizing that there are more girls than boys, Duncan has Owen, Geoff and DJ join a guys only alliance. He decided to have all of them vote off Bridgette since she is the most athletic of the girls left, and would have likely made it far. Since Geoff has a crush on her, Geoff didn't vote her off, resulting in the guys hanging Geoff upside down from a tree, and, eventually his elimination at the hands of Duncan, Owen, and Heather in Trial by Tri-Armed Triathlon.
Second guys' alliance: This alliance is formed by Justin in Super Hero-ld. Once he points out that the guys are outnumbered, four to three, he convinces Harold and Duncan to form an alliance with him.

The second Guys' Alliance is formed under Justin.

Added by

Nalyd Renrut

They are responsible for the elimination of Leshawna, and is no longer in effect since both Justin and Harold are eliminated as of 2008: A Space Owen.
Trivia
The various amount of time periods each and every alliance has lasted are as follows, in order from longest to shortest:
Noah, Eva, Katie, Sadie, and Trent are the only veteran contestants so far to have never been in an alliance.

Trent is the only character on Total Drama Action to not be in an Alliance.

The only alliances in the Total Drama series that were mentioned, but never actually formed, were:

Justin's alliance.
Heather's second alliance (with Harold).
Heather's third alliance (with Sierra).